Black garlic is awesome! The extraordinary complex, sweet and unique taste of black garlic is very enticing. It's like having healthy sweets! But once you have got the taste of it, be aware, you will be irresistibly drawn to the dark side of garlic.
What is black garlic?
Most black garlic is produced when fresh garlic is caramelized by warming whole bulbs of garlic for several weeks. This is a break-down process, involving slow sugar conversion into other compounds. The result is black cloves with a sweet, syrupy taste. Even though this does not involve fermentation with live bacteria, it's still very tasty and has many health benefits.
However, there are more health benefits consuming black garlic produced in a fermentation process involving live bacteria. During fermentation, some nutrients are enhanced and new highly beneficial ones are formed. Black garlic contains S-ally-cysteine (SAC) which can lower blood sugar, treat prostate cancer, liver cancer, prevent Alzheimer's disease and much more.
Fermented black garlic in supplement form is available for those who only want the health benefits. They have packed all the nutrients in capsules. But you really need to experience the taste!
Unique taste
The intense, deep taste is lingering with notes of dark caramel, fried onions, chocolate, a little bitterness, a little molasses sweetness, and umami (a fifth taste; pleasant savory), plus some acidity. It has a soft, smooth and creamy texture, a bit sticky like dates. And it melts in your mouth. This stuff is not even close to fresh garlic.
How to use it? The complex and delicious taste makes it very easy to use in cooking. Basically, you can use it the same way as roasted garlic.
Serve a few cloves on the side to any meal, especially meat dishes.
Make a puree from black garlic cloves and oil. The puree makes the tastes more pronounced. Use as a spread on bread or rub it onto meat before roasting. It can also be added to cream-based sauces.
When pasta is boiled, just before serving, throw in a few cloves of black garlic. It makes simple pasta dishes look and taste really cool.
When a dull dish is "missing something, " add a few cloves and suddenly it tastes amazing.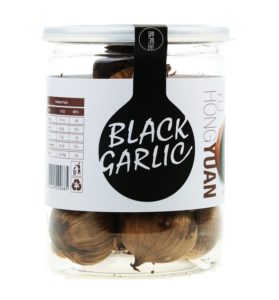 Buying black garlic
The easiest and fastest way is to buy it. Try RioRand Yuhongyuan Organic Whole Black Garlic. It's a popular and reliable brand. Very tasty!
You can make black garlic at home too. I've done it a few times because I thought it was fun. But I discovered that it can be a challenge to create a product that tastes as good as RioRand. In any case, try buying it and see if you like it. Then you can decide if you want to prepare your own which of course if much cheaper.
Preparing black garlic at home
If you're interested in preparing this yourself, I here include a brief description. Try using organic garlic if you can.
The process is simple but requires a great deal of patience. But it's well worth the wait! This recipe does not involve fermentation with live bacteria.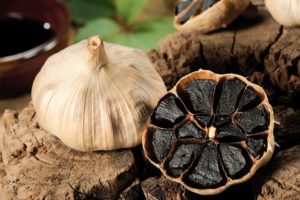 To prepare black garlic you need:
A heat-proof container
Aluminium foil
An oven or dehydrator (some use an electric rice boiler)
Step one: Add whole (not peeled) garlic bulbs in a container. This container must be safe to use in the oven. It should also be big enough for the amount of garlic you want to prepare.
Step two: Wrap the container with the aluminum foil. Wrap it as tightly as you can to prevent contaminants from getting in and garlic aroma from leaking out (some people spray the garlic with a light beer first and claim this adds a superb taste).
Step three: Place the container in an oven set to 140-170 degrees F. (60-75 C). If you can't set your oven this low, try turning on the pilot light. Perhaps this will be enough. However, using a dehydrator makes this process much easier and faster. Check the garlic now and then. Once I left mine too long and the garlic turned into rock, completely impossible to eat.
Step four: Leave the container in the oven for 30-40 days (in a dehydrator about 3 weeks; a rice boiler around 14 days). The garlic might be edible before that, but with more time the cloves will turn deep, black and get the sweet, rich, syrupy taste.
Step five: Take the garlic out and leave them on a tray at room temperature for some 30-45 days. This will complete the oxidation process. The black garlic should now be dark brown or almost black. If you used a rice cooker, perhaps 14 days at room temperature will be enough.
Enjoying black garlic
There does not seem to be any limitation on how much you can consume. So there's no risk of overdosing. It's amazing to eat by itself of with any kind of meal! It's like having pickles and candy at the same time!