Turmeric-Ginger Latte | 3 Irresistible Recipes
The Turmeric-Ginger Latte is a great, hot drink. It's absolutely delicious! The main ingredients, turmeric and ginger, are cousins and work extremely well together. The recipes below combine two nutritional giants in one delicious drink.
Turmeric Ginger Latte tasting notes
How does the Turmeric Ginger Latte taste? Served hot, it has a strong, warm, sweet, creamy taste with a lovely ginger kick. You can add cinnamon, mace, vanilla and other spices for a more complex, diverse taste. You can also use oat and almond milk.
Fresh ginger has a pleasant, warm, spicy taste that feels just right when you feel cold. Therefore, I tend to add more ginger in the winter. Some of my friends even claim the Ginger Latte promotes better sleep when consumed in the evening.
Fermented ingredients
Try using fermented turmeric powder for a richer flavour and better absorption. Fermented ginger is also a great ingredient. If you use organic ginger, leave the peel. The powder is simple to use in drinks.
1. Lazy Turmeric Ginger Latte
Skip the blender—it's a pain to wash every time. Whisk by hand instead. The result is good enough.
1/2-1 teaspoon fermented turmeric powder
1-3 teaspoons grated or fermented ginger
1 tablespoon coconut sugar (or honey, stevia)
2-3 teaspoons coconut oil
1 cup of almond, oat, or cow's milk
Cinnamon (or cardamom) powder for dusting
A pinch of sea salt
Optional: a pinch of crushed black pepper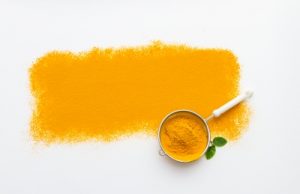 Instruction
Mix all ingredients in a pan
Put it on medium hot (not boil)
Heat and whisk until frothy
Pour up
Dust with cinnamon powder
2. Spicy Latte
Add the ginger last for a stronger bite. Adding cardamom powder make the Latte more aromatic.
1 1/2 cups (3.5 dl) milk (almond, oat, or other)
1 cup (2.4 dl) coconut milk1 teaspoon turmeric powder
1/2 teaspoon cinnamon powder
Small piece grated, fresh ginger
1/4 teaspoon nutmeg powder
A pinch of black pepper
2 pitted dates
Instruction
In a small saucepan, add all ingredients, except the grated ginger
Heat slowly until warm, whisk and don't let it boil
Transfer the mixture to a mixer, add ginger
Blend until smooth. (you can also use a hand blender)
Pour up, dust with cinnamon
3. Spicy Golden Milk
This is a spicy variation of the classic Golden Milk recipe.
1-2 teaspoons turmeric powder (or 1-inch fresh root)
A few white peppercorns1 cup water1 cup coconut milk
1-inch piece of ginger
Raw honey or stevia
A little ghee (optional)
Instruction
Crush fresh turmeric coarsely in a mortar
Crush a few white peppercorns
Mix water with coconut milk, add turmeric, pepper, ginger—bring to a boil
Simmer 5-10 min until it gets thick
Remove from stove
Add honey or stevia(optional)
Add ghee at the end
Summary: The Ginger Latte combines two superb ingredients in one drink—ginger and turmeric. Adding more ginger creates a hotter latte. But adding more turmeric can quickly become too overwhelming.
FAQ
What's the difference between fresh turmeric and powder?
Fresh turmeric contains more bio-active components than the dry powder. However, a high quality turmeric powder is still great and fermented turmeric powder is even better.