Lacto fermentation is a natural, biological process caused by beneficial microorganisms. Good bacteria cause a change in the make-up of food products, creating lactic acid lowering the pH (makes it acidic) and greatly increases the nutritional value of the fermented food.
Fermented foods are easier for the body to assimilate because it is already "chewed and digested" by friendly bacteria. Therefore, vitamins, minerals, enzymes, and other nutrients are more fully absorbed by the body.
Fermented food is "chewed and digested" by microorganisms and therefore highly bioavailable
Consuming fermented foods benefits the entire digestive tract, boosts the immune system and helps the body to thrive.
Lacto fermentation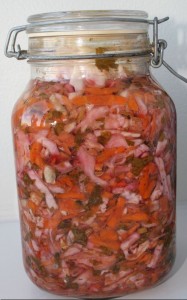 Lacto fermentation describes a biological process when microorganisms convert sugars in vegetables and milk into lactic acid.
Lactic acid is very beneficial. And the more lactic acid present in food, the more acidic the taste will be. Lactic acid a the main reason why fermented food feels tangy and refreshing.
Lacto fermentation…
prevents the growth of harmful microorganisms and acts as a natural preservative
promotes growth of beneficial bacteria in fermented food and in the gut
increases bioavailability of vitamins, enzymes, other nutrients
help control certain types of cancer
help control intestinal infections
makes food easier to digest
Lacto fermentation—three basic principles
These principles apply to most vegetables you ferment at home—from making sauerkraut to fermented garlic and many others. The art of successful lacto-fermentation means sticking to these principles. If you fail to follow them, problems will occur. Unwanted microorganisms can disturb or take control of the fermentation process by producing butyric acid and other bad-smelling and unhealthy substances. Because of this, the final product may not even be fit for consumption. This has happened to me a few times, so I've learned much from my own mistakes.
Three main principles for successful acid lactic fermentation:
Correct concentration of salt (there are different opinions on this)
Correct temperature
Absence of oxygen
1. Correct concentration of salt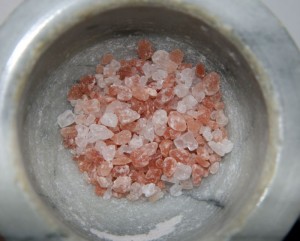 Between 1-3% salt is viewed by as a good range. Try and see what works best for you. I always use Himalayan or sea salt in my recipes.
Lactic acid producing bacteria often tolerate high salt concentrations. Adding salt promotes the lacto-fermentation process and prevents the growth of non-desirable organisms.
Some starter cultures ferment better with a bit less salt
The bacteria strain Leuconostoc (found in kefir, sauerkraut, and vegetables) has a high salt tolerance and, therefore, starts most lactic acid fermentations. The added salt extracts juice from the vegetables and creates the brine.
I always use a starter culture for sauerkraut and most other fermented vegetables. If you use the excellent celery juice as brine, then this too adds a slightly salty taste. Celery juice has properties that help preserve the vegetables fresh. But the final product will not taste celery, in fact, you hardly feel it at all.
Traditional fermentation without using a starter
Vegetables or cabbage are placed in a layer of about 2.5 cm (one inch) depth in the fermenting container. Salt is sprinkled over the vegetables. Another layer of vegetables and salt is added, and this is repeated until the container is three-quarters full. A cloth is placed above the vegetables and a weight added to compress the vegetables and assist in the formation of a brine which takes about 24 hours. As soon as the brine is formed, fermentation starts and bubbles of carbon dioxide appear. It ferments for about a week, then stored in a cool place.
2. Correct temperature
Most lactic acid producing bacteria work best at temperatures of 64 to 72 degrees (18 to 22ºC). This is the optimal range for fermenting vegetables or making sauerkraut. However, different bacteria can tolerate different temperatures, so there's a wide range of possible fermentations (making each batch unique).
Here are a few general facts to consider:
Most probiotic bacteria prefer 68 to 86 degrees (20 to 30ºC) (fermented vegetables, sauerkraut, fermented dairy)
Some bacteria, like the thermophiles (in yogurt) prefer a bit warmer temperatures 120 – 130 degrees (45-55ºC, close to a radiator)
Other bacteria like it a bit cooler, 59 to 68 degrees (15 to 20ºC). One example is Leuconostoc species involved in lacto fermentation. They have an optimum of 64 to 72 degrees (18 to 22ºC)
Generally speaking, temperatures above 72 degrees (22ºC), favor more the lactobacillus species
If you ferment in a warm climate, you might have difficulties with the lacto fermentation process simply because the high temperature will promote the growth of yeast and unwanted bacteria. Using a starter culture helps, and might be enough for a successful fermentation.
3. Absence of oxygen
Even though some healthy bacteria require oxygen for their metabolic activities, lacto-fermentation at home works best in the absence of oxygen. Using air-tight jars is, therefore, important.
NOTE: During the first part of fermentation don't put the lids on too tight. Much gas is produced by the bacteria pressure and can build in the jars. Open the lid for a second daily to let the gas out. When storing the jars in the fridge the fermentation process calms down considerably. Then lids can be screwed on tighter to keep air out.
Three phases of lacto-fermentation
PHASE ONE: The "breaking down" of substances in the vegetables as fermentation starts. This first phase if short, only a few days. When fermenting vegetables, you will see bubbles and perhaps brine coming out from the jars. This is normal. During the first phase most of the harmful microorganisms are destroyed as the product turns increasingly sour.
PHASE TWO: Good bacteria are in complete control and now consume sugars contained in the vegetables. Lactose, glucose, fructose, and sucrose are all converted by the probiotic bacteria into lactic acid and many other potent substances.This gradually increases the bio-availability of vitamins, enzymes, minerals, and other nutrients.
The level of acidity increases slowly in the brine and this creates the familiar tart, tangy flavor in fermented food. The acidity helps preserve the vegetables since most harmful bacteria do not survive in such an acidic environment. The more lactic acid, the more acidic the flavour.
PHASE THREE: Storing the jars in a cool place to slow down the lacto-fermentation process. However, the probiotic bacteria are still alive, slowly consuming carbohydrates and producing a range of potent substances. The bacteria can stay alive in the jars for many months. The longer you store the jars, the more tart and complex aromas are created.
Using a starter culture
Several good bacteria species are involved in the natural or wild lacto- fermentation process. Bacteria naturally occurring on vegetables or in raw milk are responsible for the so called wild or natural fermentation.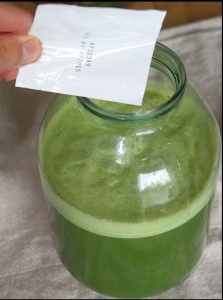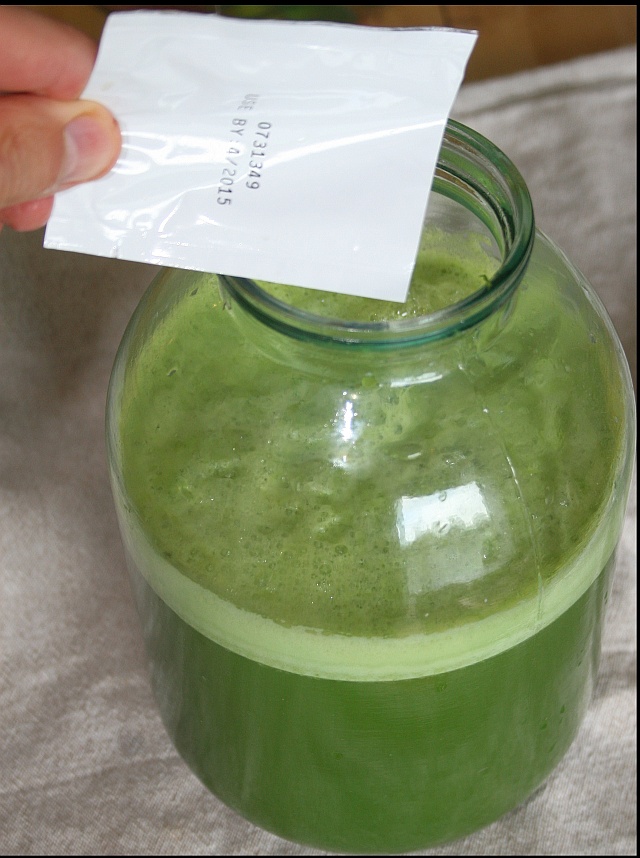 However, using a starter culture greatly help control what bacteria strains will take control in addition to the ones naturally present on the veggies. Bacteria in the starter culture will quickly dominate the lacto-fermentation process from start to end.
Starter cultures have many benefits:
Predictable result
More lactic acid produced faster
Stable fermentation process
The product can be consumed faster
Higher levels of beneficial bacteria
Fewer problems with mold, bad bacteria
Makes fermentation easier
In addition to the desirable bacteria, there are a range of undesirable micro-organisms present on cabbage and other vegetables which can interfere with the fermentation if allowed to multiply unchecked.
The quality of the final product depends largely on how well the undesirable organisms are controlled. Some of the bad bacteria use protein as an energy source, thereby producing unpleasant odors and flavors in the food. This is often what make the fermented food spoiled.
Bacteria involved
Here are a few examples of what kind of bacteria are involved in the lacto-fermentation process when preparing fermented food.
Yogurt: If you're fermenting milk into yogurt, then Lactobacillus bulgaricus, Lactobacillus acidophilus, and Streptococcus thermophilus are involved.
Kefir: Popular fermented milk drink using cow, sheep, goat milk or even soy, rice or coconut milk. Originates in the Caucasus region. Kefir contains several strains of friendly bacteria Lactobacillus Caucasus, Leuconostoc, Acetobacter species, and Streptococcus species. Some beneficial yeast is also involved.
Sauerkraut: Fermented cabbage. Strains of the genus Leuconostoc are involved as well as Pediococcus and Lactobacillus strains like Cucumeris. Lactic acid bacteria are the primary group of organisms involved in sauerkraut fermentation. Read more on preparing sauerkraut.
Leuconostoc mesenteroides – acid and gas producing
Lactobacillus plantarum – produces acid and a little gas
Lactobacillus pentoaceticus – acid and gas producing
Miso: Japanese ways of fermenting rice, barley and mostly soybeans. Miso is a natural, living food containing many healthy microorganisms such as Tetragenococcus halophilus. As probiotics bacteria can be killed by over-cooking, add the miso to soups or other foods just before they are removed from the heat. Or better, use miso without any cooking at all.
Natto: Traditional Japanese food often used at breakfast. Made from soybeans fermented with the potent strain Bacillus subtilis. It contains enzymes and compounds with exceptional health benefits.
Kimchi: Traditional fermented Korean food, often made from cabbage, radish, cucumber and other vegetables and seasonings like ginger, garlic, scallions and many other. It contains a number of bacteria, especially Lactobacillus kimchii.
Kombucha: fermented sweetened tea containing both healthy bacteria and yeast. A kombucha culture often contains the bacteria Gluconacetobacter xylinus and one or more of the yeasts Saccharomyces cerevisiae, Brettanomyces bruxellensis, Candida stellata, Schizosaccharomyces pombe, Torulaspora delbrueckii, and Zygosaccharomyces bailii.
Consume a variety of fermented foods
As seen above, a wide range of beneficial bacteria is active in different kinds of lactic acid fermented foods. Each probiotic bacteria species have specific benefits on your digestive tract and body. Therefore, try consuming different kinds of fermented foods.
Lacto fermentation in all forms is an amazing process and can provide profound health benefits. Be sure to consume plenty of it!