Cultured buttermilk can refer to a range of milk products. Traditionally, buttermilk is what is left when making butter. I've often made my own delicious butter from raw, cultured cream. The cultured buttermilk has a light, fresh, tangy taste; very refreshing!
When good bacteria consume milk sugar lactic acid is produced which creates the familiar acidic, tangy taste. In the process, casein in the buttermilk makes the buttermilk just a bit thicker. The name buttermilk is a bit misleading because it does not contain any butter. Fat contents are actually low.
Cultured buttermilk is similar to yoghurt, just lighter and tangier
Cultured buttermilk is nutritious because it contains
Potassium
Vitamin B12
Phosphorous
High levels of protein
Natural enzymes
Great source of calcium
Natural, probiotic bacteria
Buttermilk made from raw milk contains beneficial natural bacteria that support a healthy digestive tract. Those sensitive to lactose can often consume cultured buttermilk made from raw milk.
Cultured buttermilk in baking
Buttermilk is often used in baking because of its special properties. Many use buttermilk in baking as it brings a pleasant tang to cakes, bread, biscuits, pancakes, or dressings. Because this rich-tasting milk is an acidic ingredient, like yoghurt and sour cream, it also gives baked goods a softer texture and more body, and it helps quick bread rise.
However, cultured buttermilk contains probiotic bacteria that are most beneficial if consumed while still alive. Cooking with high temperatures will kill the good bacteria. Cultured buttermilk can be drunk straight similar to yoghurt and are great for smoothies.
Fermented buttermilk
There are several different ways you can prepare cultured (fermented) buttermilk. I mostly use raw milk because of the superior taste and health advantages. But you can also buy commercial buttermilk and add beneficial bacteria yourself.
The simplest way is to…
get some buttermilk from your grocery store and,
add a starter culture to get the fermentation process going (there are even buttermilk starters).
Top off with a little fresh milk or cream which adds sugar for the bacteria tI consume and create lactic acid.
Let the buttermilk sit at room temperature for about 18-24 hours. In a cool climate, put the bowl close to a radiator. But you don't want to leave the buttermilk for too long at room temperature since it will become too tangy and sour.
After 18 hours, taste it to see if it is to your liking. If fine, then refrigerate. Done! The cultured buttermilk will last in the fridge for up to five days.
Buttermilk the traditional way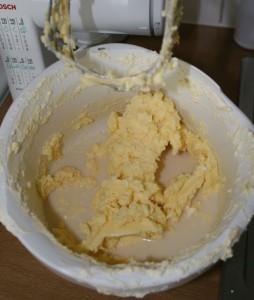 In the picture, you see how I make butter from raw, unpasteurized, cultured cream. This cultured butter is far better than the standard butter in grocery stores. It has a richer, fresher and more "buttery" taste. It's fantastic on freshly baked bread!
Cultured cream has been fermented by the natural bacteria contained in raw cream. This cream is like crème fraiche—thicker, tangier, and fuller in taste. The buttermilk is the liquid leftover you see in the bowl when the butter is formed.
You can use this buttermilk right away without doing anything more as it already contains beneficial bacteria and is therefore cultured buttermilk. However, when preparing butter from standard cream from the shop, try the following.
After the butter is done, pour the buttermilk into another bowl, add a little fresh, raw milk and let it sit at room temperature for 18-24 hours depending on the temperature.
During this time the probiotic bacteria will consume sugars in the buttermilk, grow in number, and turn the buttermilk thicker and tangier. Buttermilk seldom turns thick like yogurt because of the lower fat content.
Remember that you're dealing with a live culture so the results might differ a little each time. But the healthy properties of cultured buttermilk remain the same.
Using a starter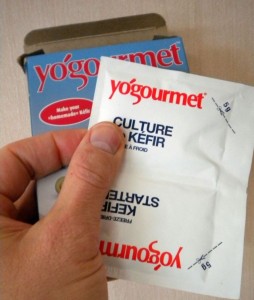 Using a starter culture adds more healthy bacteria and prevents harmful microorganisms to ruin the batch. Add the starter, stir and leave the buttermilk at room temperature for about 18 hours at room temperature.
Try using a buttermilk starter. But if not available, try a yogurt or kefir starts. Some starters lasts indefinitely because you can keep the alive and ferment milk products for years.
Cultured buttermilk is lighter than yogurt or kefir made from standard milk. The reason is that buttermilk has a lower fat content. The more fat, the more creamy it becomes.Therefore, if you're making yoghurt or kefir and like it creamy, then use milk with at least 4% fat in it. I sometimes get hold to milk with 4.6% fat which makes a richer and creamier yoghurt. You can also add a little cream to the milk to make it thicker.
Therefore, if you're making yogurt or kefir and like it creamy, then use milk with at least 4% fat in it. I sometimes get hold to 4.6% milk which becomes a great, rich, creamy yoghurt.
However, the beauty with buttermilk is its light, tangy taste creating a feeling of freshness. Cultured buttermilk works very well in smoothies and shakes.
Smoothie recipes
Buttermilk smoothies are delicious and packed with nutrients. Here are two simple recipes:
1. Cultured buttermilk
2. Blueberries
3. Half a banana
4. Optional: A few drops of stevia
Run all ingredients in a mixer. Add ice cubes, pour up and enjoy!
1. Cultured buttermilk
2. Black choke-cherries
3. Half a banana
4. Optional: A few drops of stevia