Homemade cultured butter is extremely tasty; its rich, silky, creamy with a fresh, tangy twist that I love. I think cultured butter has more uses that standard butter; for example I enjoy adding it to my daily sprout mix or even in my smoothies.
The taste and texture is just delicious! And knowing that it contains lots of beneficial probiotic bacteria, natural enzymes, vitamins and other nutrients makes it even better.
What is cultured butter?
I normally use cultured cream to make butter. Cultured cream from raw, unpasteurized milk is tastier and by far healthier than pasteurized cream.
When unpasteurized (raw) cream is left to ferment, natural, beneficial bacteria in the cream will start to convert milk sugars into lactic acid; you don't need to add a culture starter for this to happen. In just a few days the cream becomes similar to crème fraîche, a thick, fresh, tangy soured cream.
This fermentation process produces several aroma compounds, including diacetyl, which creates a full-flavored and more "buttery" taste that I quickly got hooked on.
Butter from pasteurised cream
When making cultured butter made from pasteurized cream, fermentation is often produced by adding the Lactococcus and Leuconostoc bacteria strains. Butter from pasteurized cream or cream that is not cultured is also called "sweet cream butter" i.e. it has not be allowed to sour or ferment.
Tools to make cultured butter
1. Fermented, sour cream. Best if the cream is raw, unpasteurized. Then all the enzymes, vitamins and many other nutrients are preserved.
2. A food processor
Cultured butter step-by-step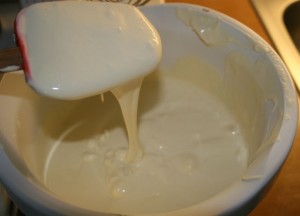 Unpasteurized, raw cream (organic is best) is loaded with natural, beneficial bacteria, vitamins, enzymes and other nutrients.
When fermented the cram becomes thicker in a day or two as you can see in the pictures. In the bigger picture the cream has been standing in room temperature during the night.
I normally use about 3 quarts (3 litres) of raw, cultured cream for my batches; from this I get about a little more than 3 pounds (1.5 kg) of butter.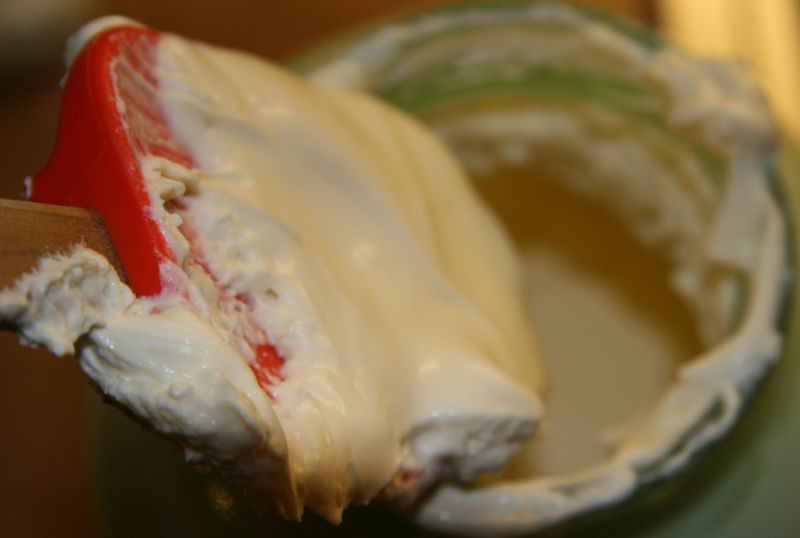 Using a mixer food processor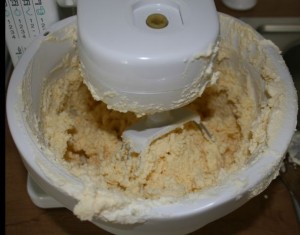 You might have heard that the temperature of the cream determines how long it takes until it turns to butter. Well, I decided to test this claim with a few batches of cultured cream. The result?
1. Cold raw cream: When the cultured cream was cold it took 22 minutes until the cream turned into a thicker mass and then into butter.
2. Cool cream: After about two hours in room temperature, it took only 3 minutes until butter formed.
3. Room temperature: However, when I left the cream in room temperature for the night, it took only 1 minute and 15 seconds before butter was formed!
Conclusion: The temperature of raw cream determines how fast butter will form!
When the cream quickly thickens, you may have to slow down the food processor. The butter is very heavy and you might end up splashing buttermilk all around your kitchen (has happened to me a few times : )
My experience with raw, cultured cream is that the butter get a lovely texture if you leave the cream overnight in room temperature before you start churning.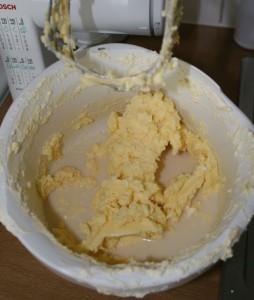 Separate the buttermilk from the butter
Here you can see the cream has turned into butter and the buttermilk around it; the buttermilk is like a low-fat leftover product, but very nutritious.
Read my post on how to make cultured buttermilk that can be used similar to yogur; packed with probiotics and is delicious.
Buttermilk is also wonderful in baking as it contains natural thickeners. But I use it mostly as yogurt.
Use a strainer to separate the butter still left in the buttermilk.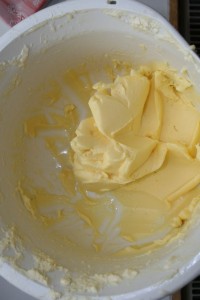 The buttermilk is now poured into another bowl so I can deal with it separately later. But you're not done yet with the butter.
There's still some buttermilk left in the butter and this you must remove; the less liquid that remains in the butter the better. If buttermilk is left in the butter it can add an unwanted taste to the butter. Buttermilk also spoils faster than butter. So try to remove as much as you can.
This demands some kneading and rinsing!
Knead the butter
Knead the butter under cold water for a few minutes to work out any remaining buttermilk.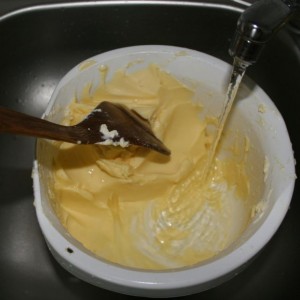 The reason is that your butter will taste better, stay fresh longer and have a nicer texture. Clean the butter from as much buttermilk residue as you can.
Then add sea or Himalayan salt to the butter if you want; I love the sea salt taste in butter.
Time: From starting the food processor until the butter was packed in jars takes about 20 minutes.

You can also put the butter in a cloth and then squeeze out the liquid, the buttermilk left in the butter.
This works very well as the soft material will assimilate much of the liquid leaving the cultured butter dry.

Store in tight jars
I put my butter in glass jars. I've saved my cultured butter fresh in my fridge for about two weeks; I have a cold fridge which helps.
Butter easily picks up flavors from other foods. Therefore, use tight jar is a must. You can also flavor the cultured butter with either curry, pepper, cinnamon, lemon or bacon.
Add taste and color to cultured butter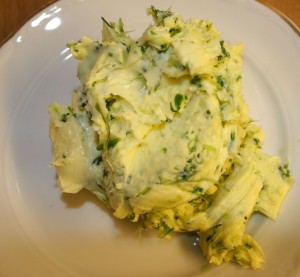 I added a mild red pepper to this batch, not so much for the taste but just because it's so beautiful. You can add many other herbs, spices or vegetables for color and taste.
Here I added coriander leaves; I just love the taste and it adds a beautiful green color.
This butter is now packed and ready to be put into the fridge for storage.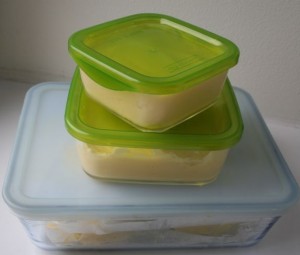 If you want to preserve butter longer, you can save your homemade butter in the freezer. I've saved cultured butter for a few month in the freezer without any loss of taste or texture. It is best to take it out from the freezer and put in in the fridge a few hours before you want to use it. It needs some time to soften.
Benefits of cultured butter
Homemade cultured butter is extremely beneficial. Here are a few reasons why you should consider consuming cultured butter regularly.
Contains lauric acid, a unique substance found also in coconut oil; it has powerful anti-viral, anti-bacterial, and anti-protozoa properties
Rich in an easily absorbable form of Vitamin A
Contains lecithin; benefits in acne, in improving liver function, and in lowering
contains anti-oxidants

Great source of Vitamins E and K
Very rich source of selenium
Contains saturated fats with strong anti-cancer properties
Contains conjugated linoleic acid, a potent anti-cancer agent
Contains vitamin D, an essential hormone
Protects against tooth decay
Great source of an anti-stiffness factor, which protects against calcification of the joints
Contains an anti-stiffness factor in butter also prevents hardening of the arteries, cataracts, and calcification of the pineal gland
Source of Activator X, which helps your body absorb minerals
A source of iodine in highly absorbable form
May promote fertility in women
A source of quick energy, and is not stored in our bodies adipose tissue
Butterfat is essential to children's brain and nervous system development
Contains Arachidonic Acid (AA)
Protects against gastrointestinal infections
Enjoy cultured butter daily
If you are on a low carb diet or doing intermittent fasting like my wife and I, then your fat intake should cover 50-80% of your daily calorie intake. This means you focus on olive oil, avocado, nuts and other sources of healthy fats. Cultured butter is an excellent source of healthy fats; I consume about 2,3 tablespoon a day with my lunch meal when breaking the fast.
And even if you're not low-carb, still healthy fats are essential. Homemade cultured butter will be a great and tasty addition in your family.
We don't eat much bread (only what my wife bakes like sourdough bread) and therefore I find other uses for cultured butter, as topping on my lunch omelet. Here together with coriander leaves mixed with garlic and olive oil (the darker pile), and mung bean sprouts mixed with pumpkin seed sprouts (the lighter pile).
Yummy!