This list of vegetables can help you find which veggies to ferment and how to combine them. Almost any vegetable can be fermented by the same probiotic bacteria and yeast.
When fermenting shredded cabbage, you get sauerkraut. Mixing several vegetables and adding herbs, spices or seeds makes for a more complex, rich taste.
Some people ferment vegetables containing certain nutrients, enzymes or vitamins to fit their health goals.. Fermenting vegetables is an excellent way to flood the body with many nutrients.
Nutrient dense
Fermenting vegetables changes the state of the vegetables from raw to become as if already digested, courtesy of the probiotic bacteria. Therefore, in this "digested" state vitamins, enzymes, minerals and other nutrients are easier to assimilate by the body.
A-Z veggie list for fermenting vegetables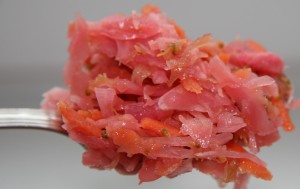 Use this list as a guide when fermenting vegetables. It includes common vegetables, fruits and herbs. Most ingredients can be combined in many different ways and amounts. No need to be too picky on that. Try some of the many recipes on this site.
If you are a beginner, it might be easiest to start with simple recipes including just one or two ingredients. Cabbage with carrots and ginger is one example. It is wise to use fresh vegetables and fruits that are in season.
Apples
Apples can be added to most recipes. Contain refreshing, beneficial acids and many nutrients. However, use apples sparingly as the high sugar content can produce to much alcohol. Sauerkraut and apples is a classic recipe.
Nutrition: Apples are ranked very high in antioxidant activity protecting brain neurons and lower risk of diabetes and heart disease. Most antioxidants are found in the peel. Nutrients include phenols, malic acid, pectin, caffeic acid, phloridzin and quercetin.
Beetroot
Beautiful and potent with a sweet, sour and earthy taste. Beetroot adds a more complex taste to many recipes. Be careful when beetroot is the main ingredient as the high sugar contents might produce too much alcohol if fermented too long or too fast. Taste daily from the jar to know when to it's ready to refrigerate. Delicious when mixed with lemon, dill, cabbage and caraway seeds.
Nutrition: High in minerals, beta-carotene, folate and phytochemicals. Betacyanin, the pigment responsible for the deep purple color, is a powerful anticancer agent. The top greens are rich in carotenoids, flavonoid anti-oxidants as lutein, zeaxanthin. Studies show that beetroot can cleanse and detoxify the liver, reduce high blood pressure and help muscles to work more efficiently.
Bell pepper
Goes well with cabbage and many other vegetables. Adds a beautiful color, a fresh taste and an appealing crunchiness. Try fermenting bell peppers with spices like onion, garlic, cilantro or cumin.
Nutrition: Contain over 30 different carotenoid nutrients as alpha-carotene, beta-carotene, lycopene, lutein, cryptoxanthin and zeaxanthin. These substances has a strong antioxidant and anticancer effect of the body.
Broccoli
Has a mild taste, beautiful green color and packed with nutrients. Can be combined with most other vegetables. Try fermenting broccoli with carrots and leeks.
Nutrition: Very powerful containing many potent nutrients and antioxidants. High in vitamin K, C and the strong carotenoids lutein and zeaxanthin. Also contains the phytochemical sulforaphane that promotes your body's ability to detoxify. Rich source of the flavonoid kaempferol. Broccoli is much studied for its ability to fight and prevent many different cancers.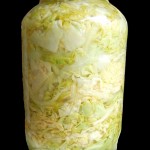 Cabbage (green)
A major ingredient in sauerkraut and in many recipes for fermented vegetables. Cabbage is easy to use and cheap to use. It also has an appealing crunchiness when fermented. Many recipes call for 50-100% cabbage. Don't underestimate the simple but delicious sauerkraut. You need only cabbage, sea salt and water (and perhaps a starter culture).
Nutrition: Cabbage is nutrient-dense, high in phytochemicals, anti-inflammatory agents and anti-cancer compounds called glucosinolates. Cabbage juice has been used to treat/prevent ulcers.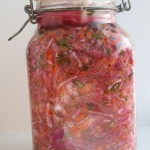 Cabbage (red)
Adds a beautiful color when fermenting vegetables. Can be fermented with almost any other vegetables. Fermented with juniper berries or caraway seeds you can make red sauerkraut which has a beautiful color and excellent taste. The color of red cabbage often turns bluish during fermentation. Mixing green and red cabbage produces pink kraut (as in the picture).
Nutrition: Very high in certain nutrients as vitamin K and very powerful antioxidants called polyphenols.
Carrot
Easy to ferment together with other vegetables. A simple recipe is 70-90% cabbage, 10-30% carrots, and a little ginger. Very easy to prepare but tastes great.
Nutrition: Rich in vitamins A, K, minerals and the powerful compound falcarinol. Recent studies indicate that falcarinol can prevent cancer. Carrots also lower the risk of coronary heart disease and heart attacks in women. Avoid Baby carrots that are treated with chlorine.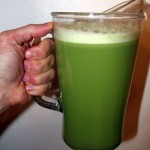 Celery
The celery juice is excellent to use as brine when fermenting vegetables. It has a mild, salty taste that goes well with most vegetables. Both stalks and leaves can be used. The leaves have a stronger flavor. Root celery is similar in taste and can also be used to create juice or to shred and ferment with other veggies.
Nutrition: High in vitamin K, folic acid, potassium and many phytonutrients and antioxidants that protect cells and blood vessels. Contains luteolin, a powerful flavonoid and anticancer agent. Celery lowers high blood pressure, prevent growth of tumors.
Coriander leaves (cilantro)
This is one of our favorite ingredients. The flavor is unique but similar to parsley with a hint of citrus and celery. If you like the flavor, then add as much as you like to your batch. Coriander leaves goes well with most other vegetables.
Nutrition: Known as a powerful detox agent promoting the cleaning of mercury, aluminium, and other metals from your body. Cilantro contains an impressive list of unusually potent and healing phytonutrients and anti-oxidants that are anticancer, anti-inflammatory, and antimicrobial.
Fennel
Smells wonderful when shredded with hints of licorice. Fennel adds a flavor similar to anise. As we love fennel, we often add quite a lot to a batch.
Nutrition: Anethole, a component in the oil of fennel and a powerful agent against cancer and inflammation. Contain the flavonoids rutin, quercitin, and kaempferol. Promoting digestion and is considered "anti-ageing."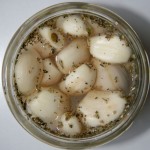 Garlic
Fermented garlic is wonderful with a powerful, tangy taste. However, garlic adds a distinct taste when mixed with other vegetables that might be too overwhelming for some. Fermenting garlic in separate jars might be a better idea. This we do regularly. Then the powerful flavor is optional as a side-dish.
Nutrients: Fermenting garlic dramatically raises its health promoting properties and makes it easier for the body to assimilate the many powerful nutrients present.
Ginger
Adds a pleasant, warm taste to any batch of vegetables. During winter this is especially appealing. We add ginger to many of our batches. The more ginger you add, the hotter the taste so be careful if you don't want a too strong flavor. Try shredding ginger a bit smaller to avoid bigger pieces that taste very strong.
Nutrition: Contains powerful fenols, antioxidants like 6-gingerol that prevents, even kills cells in tumors and is anti-inflammatory. Promote digestion, lowers cholesterol, and strengthens the immune system.
Hot pepper, Jalapeño
Great together with many other vegetables. Be careful not adding to much as fermented the flavor can get very strong. One or two hot peppers in a batch of a few jars might be all you need.
Nutrition: Contains powerful enzymes and antioxidants with anti-inflammatory properties. Can raise body temperature and promote weight loss.
Onion (yellow, red, white)
Fermenting onion by itself or together with bell pepper, or beetroot is excellent. Similar to garlic, its distinct flavor can be too dominant if used in a large batch with other mild vegetables.
Nutrition: Contains many organic thiosulfinates, sulfides, sulfoxides and other compounds responsible for its anticancer, anti-inflammatory activity.
Radishes
Nice to ferment by itself with some dill, caraway or mustard seeds. Radishes is also used to prepare kimchi.
Nutrition: Includes the detoxifying agents called indoles, the powerful flavonoids zeaxanthin and lutein. Radishes also contain the antioxidant called sulforaphane that has proven to inhibit prostate, colon, breast, ovarian and other cancers.
Sweet Potato
Has a sugary, caramelized flavor that goes well with other vegetables. Leave the skin on and ferment them raw. Fermented successfully, they remain crunchy. For a nice, simple recipe, try mixing sweet potatoes with a little ginger, an onion and salt.
Nutrition: Contain carotenoids, strong antioxidants vitamin A and anthocyanins, associated with a lower cancer risk.