Consuming yogurt with probiotics is not only delicious, but also has some surprising health benefits, thanks to clever microorganisms
The live bacteria in yogurt create the creamy texture and refreshing taste. But bacteria also make yogurt richer in vitamins, enzymes and other nutrients. The benefits of yogurt with probiotics and other beneficial microorganisms are confirmed in many studies.
Yogurt with probiotics
A number of studies confirm the benefits of eating yogurt.
In one study elderly people consumed a probiotic yogurt supplement during four weeks. At the end of the study it was concluded that consuming yogurt with probiotics may help reduce low-grade chronic inflammation in elderly people.
Another study evaluated the impact of a regular consumption of yogurt with probiotics on the intestinal microbiota. In yogurt consumers, the level of bad bacteria was significantly lower and the level of healthy enzymes was significantly increased. In addition, it was noted that the beneficial health effects of yogurt increased with the amount of probiotic bacteria consumed. This shows that yogurt containing the most probiotic bacteria will have greater benefits.
A third study examined how the consumption of snacks affects appetite and overweight. Researchers came to the conclusion that all dairy snacks reduce appetite. However, yogurt with probiotics had the greatest effect. So if you're aiming to lose weight, consuming yogurt as snack will be a great help.
More benefits of yogurt with probiotics
Lessen the severity of Inflammatory Bowel Syndrome (IBS)
Reduce sick days associated with flu and colds
Cut the risk for stomach ulcers
Contains protein, minerals, calcium, and B-vitamins
Yogurt made from raw milk is superior
Promotes weight loss
Which yogurt is the best choice?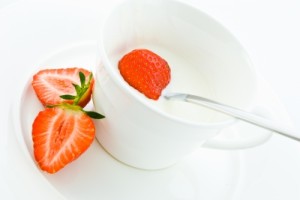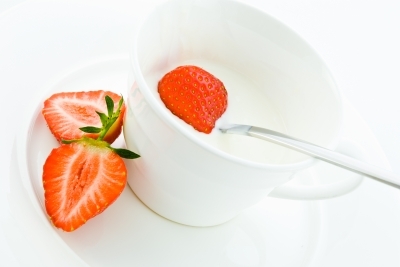 During the last five years, almost 1000 new yogurt products have hit store shelves. How can you make sure you make wise choices?
Yogurt should contain active probiotic bacteria
Much yogurt is heat-treated which kills most active bacteria. This is done to prolong shelf-life. Some yogurt labels say "active bacteria" or "live bacteria" which is a good sign. You can also check for the National Yogurt Association's Live & Active Cultures seal.
Many yogurt brands are loaded with sugar and are not healthy options. Yogurts with crushed cookies and candy toppings are obviously bad choices. Check if "berries" or "fruit" are not just a mix of coloring and juice.
Much commercial yogurt is loaded with sugar
Yogurt containing a few extra flavors from fruit or berries are OK. Unsweetened natural, plain yogurt or Greek yogurt are great options.
Add fresh berries or fruit yourself to plain yogurt. This way you stay in control of what goes into what you consume.
Avoid yogurt that adds sugar as the first or second ingredient.
Learn to read labels carefully, ugar is a major reason for weight gain and numerous other health problems.
Nonfat yogurt not better
The fat in dairy is not a problem, but sugar and additives are. Full-fat yogurt or yogurt containing 1 or 2 percent are far better than nonfat and low-fat products.. Sugar, not fat is a main cause of obesity and other health problems. The saturated fat in yogurt has many health benefits and makes yogurt naturally creamier without unhealthy additives.
Artificial additives in yogurt
But stay away from yogurts with a long list of ingredients including artificial coloring, preservatives and other unhealthy ingredients.
Homemade yogurt with probiotics best
There's a HUGE difference between healthy yogurt made from natural, raw milk and most commercially produced yogurt.
Homemade yogurt made from raw milk is packed with beneficial bacteria, vitamins, enzymes and many other nutrients. Most lactose intolerant persons can safely consume yogurt made from raw milk.
Making you own yogurt with probiotics is really very simple, but the result is far better than most yogurts you find in supermarkets.
References:
Eduardo J. Schiffrin, Alexandr Parlesak, Christiane Bode, J. Christian Bode, Martin A. van't Hof, Dominik Grathwohl and Yves Guigoz (2009). Probiotic yogurt in the elderly with intestinal bacterial overgrowth: endotoxaemia and innate immune functions. British Journal of Nutrition, 101, pp 961-966. doi:10.1017/S0007114508055591.
Elise Alvaro, Claude Andrieux, Violaine Rochet, Lionel Rigottier-Gois, Pascale Lepercq, Malène Sutren, Pilar Galan, Yvonne Duval, Catherine Juste and Joël Doré (2007). Composition and metabolism of the intestinal microbiota in consumers and non-consumers of yogurt. British Journal of Nutrition, 97, pp 126-133. doi:10.1017/S0007114507243065.
Anestis Dougkas, Anne M. Minihane, D. Ian Givens, Christopher K. Reynolds and Parveen Yaqoob (2012). Differential effects of dairy snacks on appetite, but not overall energy intake. British Journal of Nutrition, 108, pp 2274-2285. doi:10.1017/S0007114512000323.