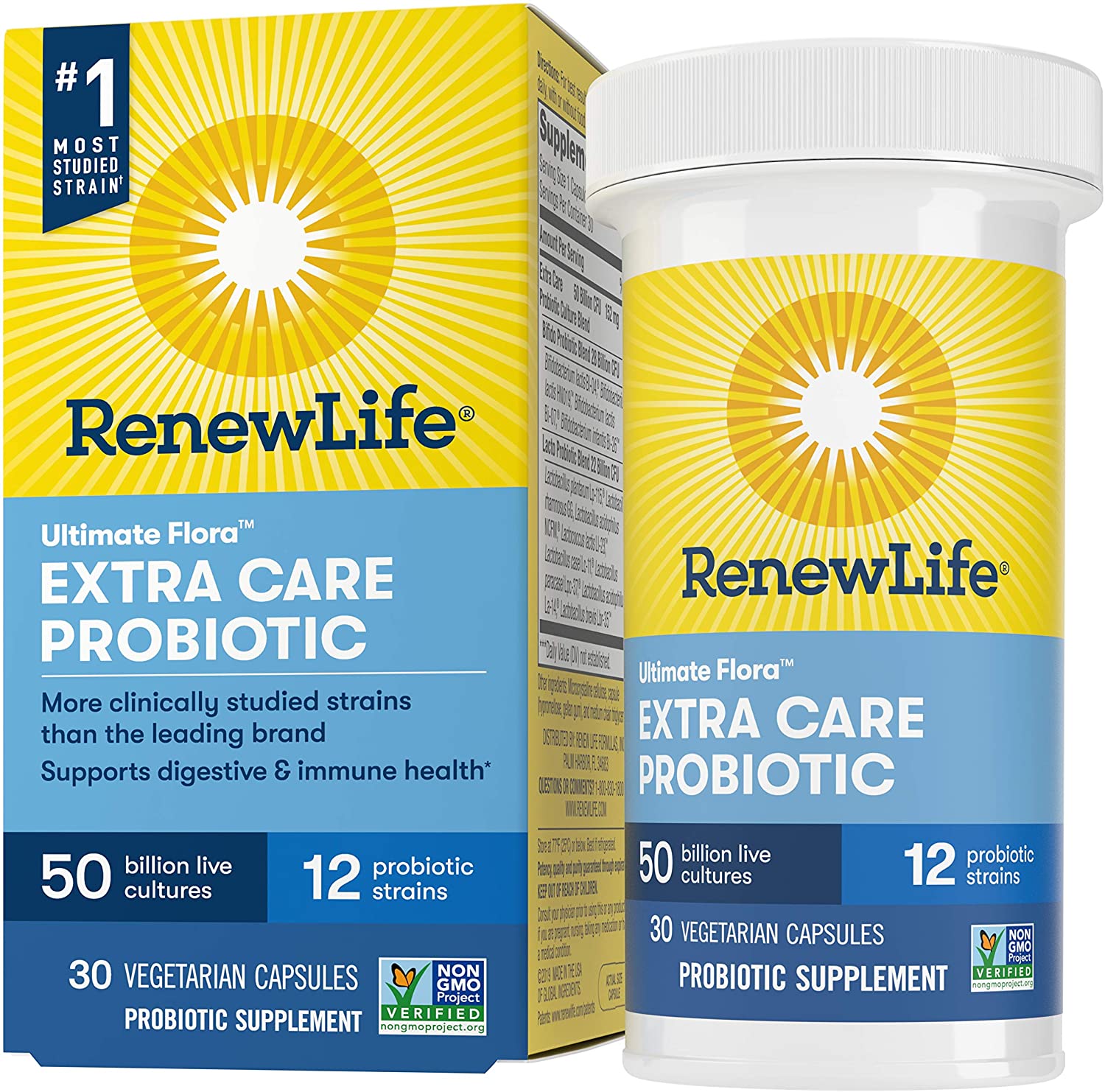 Renew Life Extra Care Probiotic is another widely used supplement. Renew Life offers several formulas for different purposes. This review is about the 50 billion CFU supplement, though I also comment briefly on some of the many other supplements in this series for comparison.
Renew Life Extra Care summary:
Renew Life Extra Care features
One thing that stands out is that Renew Life Extra Care contains a high bifido strain count. The bifido bacteria are most prevalent in the large intestine where many gut problems occur, for example after taking antibiotics. Renew Life reflects serious research and their homepage is informative easy to navigate.
Cost
This is a bit more expensive that other probiotics supplements. However, you do get a quality guarantee. If you're on a low budget, try one capsule every second day. That's half the price but the effect may still be noticeable.
Verdict
Ultimate Flora Renew Life produce high quality probiotic supplement, that much is clear. Independent lab tests reveal that the product pure and safe. There are many satisfied customers adding to the trust. I don't you will not be wasting your money on this one.
Renew Life probiotic supplements
Ultimate Flora offers a wide range of Renew Life formulas. However, in my experience most people don't really need to worry about that; they only need a high quality probiotic supplement with enough bacteria. I really like Renew Life Extra Care 50 billion; it's an excellent supplement. I mention a few others below. Here's link to see more.
Renew Life Ultimate 100 Billion. A more intense program during illness, infections, when on antibiotics, or when travelling abroad. Good for both men and women. Contains 12 bacteria strains.
Renew Life Extra Care 50B. Contains 12 bacteria strains. A great standard supplement suitable for most people.
Renew Life Women's Care 50 Billion. Contains 10 bacteria strains especially suitable for women. Many happy customers (women) have written lots of reviews on Amazon.com about how well this works for bloating, gas, constipation, infections, and much more.
Renew Life Adult 50+ 30 Billion. Contains 12 bacteria strains. This supplement is designed for the needs of those aged 50+. Though I'm not sure this is any more effective than the standard 50B above.
Renew Life Kids 3 Billion. Contains six bacteria strains. Seems to work well for children aged 2+.
If your gut is infected by harmful microorganisms, you might experience a headache, flu-like symptoms, diarrhoea, skin rashes, or constipation. Lower the dose until symptoms disappear.
As each person's gut is unique, you might need to try which supplement best covers your needs. In any case, the Renew Life Probiotic series are of high quality will probably have a positive effect on the gut.