A very common question is about probiotics side effects. Some people are concerned about specific symptoms while taking a probiotic supplement. Others experience adverse effects while consuming fermented food.
This concern is understandable. It's important to know that probiotics are safe and that beneficial bacteria will not cause harm to you or your family.
Causes of probiotics side effects
The main reason for probiotics side effects is that friendly bacteria has a cleansing and healing effect on the body. Therefore, generally speaking, the stronger reaction someone has to probiotics, the more the body needs cleansing.
Probiotic bacteria stimulate the body to rid itself of chemicals, waste products, and other impurities. Such substances leave the body through different exit routes. Therefore, most side effects of probiotics are signs of harmful substances being eliminated from the body.
The body uses four main exit routes for toxins and waste. And consuming probiotics can speed up elimination and this can cause symptoms.
Symptoms of elimination:
Urination: higher frequency, stronger smell, discoloring
Bowel movement: diarrhea, constipation
Sweating: odor, itchy skin, skin rash, eczema
Breathing: running nose, coughing, sneezing, sore throat
"Probiotics side effects" are in most cases waste and toxins being eliminated from the body.
Most probiotics side effects originate from one of these four exit routes being activated. Sometimes all four are active at the same time. In the great majority of cases, mild symptoms are normal, completely harmless and disappear after a few days. However, a few people might experience stronger symptoms or for more than a week. Generally, the longer and stronger the reaction, the more the body needs cleansing.
Waste and toxins in the body
All bodies contain more or less harmful substances. Consider three main reasons for this::
1. Toxins
Our bodies assimilate chemicals, toxins, and other harmful substances daily from drinking water, the air we breathe, food and drinks, skin care products, drugs, tobacco and much more. Some harmful substances are stored in the body until they can be eliminated. The term "detoxification" is often used to describe the process of eliminating harmful waste. Indeed, many people need a detox.
The Center for Disease Control and Prevention (CDC) reports that nearly every person tested has stored a great variety of harmful chemicals in their bodies. Even newborns were found to contain on the average 287 chemicals. Many of these are poisonous and can cause a number of chronic health problems.
What probiotics can do: The intestine is a major exit route for many harmful substances. Consuming beneficial bacteria promotes and accelerates this process so that toxins can exit the body. Signs of this might be diarrhea, bloating, gas, frequent urination, and others. Some specialists recommend adding chlorella that binds many toxins.
2. Microorganisms
Harmful bacteria, virus, yeast and other unwanted microorganisms regularly enter the body through the eyes, nose, mouth or some other way. Some microorganisms cause colds, flu, infections, gut problems and many other diseases.
What probiotics can do: Probiotics can destroy and neutralize many harmful microorganisms. However, when bad microorganisms die some species release powerful toxins causing unpleasant symptoms as gas, bloating, rash, headache, running nose, frequent urination, and others. Symptoms continue until the most of the unwanted microorganisms are gone.
3. Disease
Finally, many diseases, inflammatory and autoimmune conditions as arthritis, psoriasis, allergies and others can cause the production of additional waste products in the body.
What probiotics can do: Beneficial bacteria play a major part in stimulating and strengthening the immune system, reducing inflammation and fighting infections. 80% of the immune system is located in the gut where probiotics can promote its function.
As seen from the above, probiotics side effects are in effect probiotics cleansing effects. Friendly bacteria are similar to garbage collectors. They help keep the body clean and healthy.
Beneficial bacteria or probiotics are essential for life. Without friendly bacteria, many body functions would not continue and you would die. Billions of bacteria all over the body sustain a delicate balance that is vital for good health.
Bring out the garbage, don't let it pile up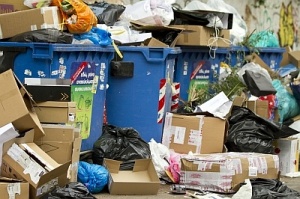 Where do all these chemicals, harmful microorganisms, and waste in the body go? Ideally, they should be eliminated.
But what happens if the body cannot eliminate all waste and toxins? Well, think about what happens when trash collectors go on strike and garbage is piling up on the streets. It makes the whole neighborhood stink and it creates a breeding ground for bugs, rats, and disease.
If you body's cleansing system is note tuned well, waste will start piling up. Your body can become a breeding ground for inflammation, infection, and disease. What can you do?
You can support your body's ability to bring the garbage out, help it to rid itself of harmful substances. How can you do this?
A few simple suggestions:
Sauna
Sweating is a great way of eliminating harmful substances from the body. Sweating is a natural detox. The skin is your body's largest organ and sweating will bring out a lot of waste.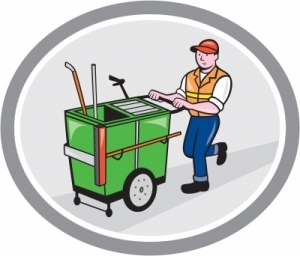 Hot baths
If you don't have access to a sauna, try hot baths with some Epson salt, ginger and 1/2 cup of baking soda added. Do this once or twice a week. Or try the superb bentonite clay bath.
Juicing
Fresh vegetable juice floods the body with vitamins, nutrients, loads of enzymes and other nutrients. Try a juice fast for 3-15 days. You might rapidly lose weight but as you do, the body also eliminates harmful substances stored in fatty tissue.
Cilantro
Excellent to mobilize chemicals out from the body, especially mercury. Cilantro tinctures are very effective for this purpose. However, use cilantro for some weeks, then take a break.
MSM
This sulfur is simple to use, cheap and very effective to support the removal of metals like mercury from the body. Start off low and slowly increase the dose.
Probiotics
Optimizing your gut flora accelerates the body's ability to cleanse itself. Beneficial bacteria affect multiple organs and functions and are essential for good health. You can take a supplement even thought consuming fermented food is ideal. Kefir,yoghurtt, sauerkraut, kimchi, natto are a few.
Minimize symptoms
As already stated, most probiotic side effects are in reality symptoms of chemicals and waste being eliminated from the body. This is an essential process to stay healthy. But symptoms, though harmless and of short duration, can feel uncomfortable. Can this be avoided?
Generally, the more symptoms you have, the more your body need cleansing. If you have candida overgrowth, a bacterial infection or allergies the reaction might be stronger to probiotics. Therefore, lower the dose to minimize symptoms.
Try some of these suggestions:
Taking a capsule every second day instead of every day for a while. Later increase the dose.
If you consume fermented food, lower the amount.
Empty a probiotics capsule in a glass of water or juice and drink a little during a few hour until the glass is empty
Eat enough fiber to support bowel movement and avoid constipation. Fiber cleans out the colon.
Taking magnesium capsules can help solve constipation.
Drink plenty of water throughout the day to support the cleansing process.
Following these guidelines can help to avoid most or even all probiotics side effects.