Can probiotics lower blood pressure naturally and without the side effects common in commercial medication? Yes, this seems to be the case. Friendly bacteria are able to perform amazing things in the body, this has been long confirmed by much experience and research.
Probiotics are mainly known to be live bacteria colonizing the digestive tract. However, these trillions of microorganisms are of many different kinds and strains and exist both on the inside and the outside of the body. This large colony works in symbiosis with the body and promote a healthy immune system, metabolism, improve mood, skin quality, and also the cardiovascular system. Let's see how.
Probiotics lower blood pressure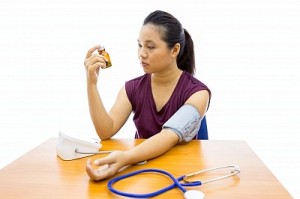 Studies show that probiotics can lower blood pressure without the side effect common from synthetic medication. "The small collection of studies we looked at suggest regular consumption of probiotics can be part of a healthy lifestyle to help reduce high blood pressure, as well as maintain healthy blood pressure levels," said Jing Sun, Ph.D., lead author at the Griffith Health Institute, Queensland, Australia.
The team analyzed nine high-quality studies examining the connection between blood pressure and probiotic consumption. The researchers tested 543 adults with normal and elevated blood pressure and found that those who consumed friendly bacteria for more than eight weeks experienced a lowered blood pressure compared to adults who didn't consume probiotics. This result is similar to other studies, namely that most positive effects from probiotics start to show after 8-12 weeks. Of course, consuming probiotics longer than this might produce even better results.
It is also interesting that the good effects on blood pressure from consuming probiotics were greatest in people who had a blood pressure of over 130/85.
How much do you need?
In this particular study, the researchers found that probiotic consumption with a daily bacteria volume of more than one billion colony-forming units (CFU) may improve blood pressure. This is not a problem as many high-quality probiotic supplements contain much more than that. some even 50-100 billion CFU.
However, fermented vegetables can contain trillions of probiotic bacteria in a few tablespoons! So if you want to economize and at the same time consume large amounts of friendly bacteria, then fermenting your own vegetables is highly recommended, and simple.
The Australian study also concluded that consuming multiple bacteria strains lowered blood pressure more than if only consuming a single probiotic bacteria. This is again similar to many other studies that indicate how benefits increase with the number of different bacteria consumed. Therefore, get a probiotic supplement containing 5 or more bacteria strains for maximums effect. Hyperbiotics and  Complete Probiotics are both highly recommended.
Blood pressure medication may backfire
Blood pressure medications are very common in many countries, including the US. However, many blood pressure drugs can have unpleasant side effects. Some drugs may ease symptoms, but they do not treat the underlying cause of high blood pressure (hypertension). Side effects are in some cases serious. Common adverse effects are kidney damage, digestive problems, elevated triglycerides (blood fats), vision problems, anxiety, and anaemia.
Some people have a genetic disposition for high blood pressure. For others, the root cause is connected to lifestyle issues such as stress, poor diet, smoking, and obesity. Therefore, making a few lifestyle changes might be enough for some to normalize blood pressure without the use of strong medication. Probiotics are worth a try.
Probiotics lower blood pressure without any side effects. Consuming friendly bacteria and raw food daily are simple lifestyle changes that might help control high blood pressure.
How probiotics lower blood pressure
The researchers believe that probiotics lower blood pressure by affecting other body processes, including improving total cholesterol and low-density lipoprotein (LDL), reducing blood glucose and insulin resistance, and by affecting hormones that regulate blood pressure and fluid balance.
Even if these studies were small and not completely conclusive when it comes to blood pressure, they still emphasize the many benefits of consuming friendly bacteria on a regular basis. In fact, daily consumption of probiotics can be one of the best ways to keep your body in balance.
Get started with probiotics
Quick start with a good supplement containing billions of friendly bacteria.
Prepare homemade fermented vegetables. Fermented food is an excellent source of bacteria, natural acids, vitamins, enzymes, and many other nutrients.
Eat plain, full-fat yoghurt or kefir daily. Fermented milk products contain excellent bacteria. Go for the unsweetened products to avoid excess sugar.
Each person is unique and therefore each one must try to and what works best. But probiotics is simple, safe and work well for many people. And if probiotics lower blood pressure in your case, then you will have found a superb and natural solution. that far exceeds any commercial drugs. A natural solution is always best!