How can probiotics for dogs be beneficial? If you've had a pet—dog or cat—for some time, you might have discovered that one of the top 10 reasons you would bring your pet for health-care, is because of bowel problems. Most vets see pets with bowel problem every day.
Common problems include runny stool (diarrhea); inconsistent stool (changing from day to day); too solid stool (she might not go for a long time). Inflammatory conditions in the intestine often cause chronic diarrhea in dogs. This needs to be treated.
Many bowel problems can be resolved by supplementing your pet's diet with natural probiotics; this will help your pet to avoid many bowel problems and other health hazards. Probiotics for dogs are especially designed for inflammatory conditions, yeast overgrowth and bacterial infections.
Probiotics for dogs
Improve your pet's overall bowel health, energy and vitality
Protection against stress (a main reason for bowel problems)
Improve digestion
Remove toxins from the body
Control yeast overgrowth
Help you pet to enjoy fully they companionship with you
Does your dog need it?
Similar to humans, dogs and cats experience stress related problems. Stress has a negative effect on the gut health of animals and can in the long run cause even serious health problems. Your pet's gut carries a heavy responsibility to keep the immune system intact, but stress can weaken the gut and lower the immune system resulting in different health problems.
Stress Factors (Examples of physical: infections, hunger, lack of sleep, pain, allergies, lack of rest, chemicals, thirst, abuse. Emotional: lack of space, death, weather, in crate too long, frustration, visiting vets, lack of relationship, re-homing etc.)
Change of diet can cause bowel problems
You being gone from home can cause frustration
Poor diet, malnutrition
Eating grass, sticks often cause temporary bowel problems
Being bored; go for walks in new places, meet other dogs, play etc.
Besides just being your dog's best friend, add a probiotic supplement your pet's diet daily. This will flood the dog's system with healthy, natural bacteria that can balance the gut and revive it to work optimal. This can also have a positive effect on your pets temper.
Use only the best probiotics for your pet
There are many different strains of probiotics or healthy bacteria and each strain will contribute to create balance in your pet's gastrointestinal system. Most research reveal that adding 8-10 strains will promote the most good so you should look for supplements with this many strains. It doesn't mean that 1 or 2 strain is bad for you pet; it just means that the result can be more limited.
Equally important to the number of strains is the amount of bacteria in every serving. Some supplements will contain a few million bacteria per serving which is considered too low, others will contain 20 or 40 billion. In general, the more the better.
FortifFlora best selling dogs' probiotics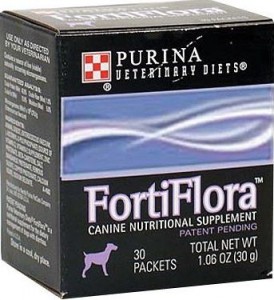 FortiFlora is a nutritional supplement promoting a healthy immune system. It has great taste (for a dog!), is stable during shelf-life and is safe to use. The product contains…
a bacteria strain of probiotic proven to promote intestinal health and gut balance
a guaranteed amount of live active cultures
high levels of antioxidants (vitamins A, E, and C)
How does it work?
FortiFlora may help nutritionally manage dogs with diarrhea in many situations, including:
Stressful situations such as boarding or change in home environment
Diet change or consumption of inappropriate foods
Soft stool in puppies
Antibiotic therapy (in this situation always support your dot with probiotics)