Probiotics for acid reflux has proven very effective for many people. Beneficial bacteria has the ability to naturally lessen heartburn symptoms as well as other gut problems.
Many who suffer from acid reflux try many different approaches to find relief. Some strategies might offer a temporary improvement, but the heartburn symptoms often return. Even though consuming probiotics for acid reflux can lessen the symptoms, in some cases, additional strategies are needed to completely eliminate problems.
Symptoms of acid reflux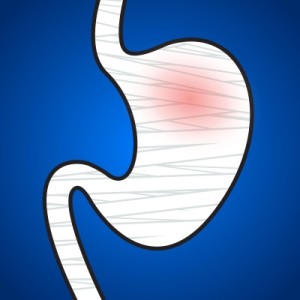 Here are some common symptoms. Some people have only one or two symptoms, other might have more.
A burning feeling from the stomach often reaching the chest and throat
The feeling of food stuck in the throat
Tightness in throat
Dental problems
Hoarseness
Wheezing
Bad breath
Asthma
Causes of acid reflux
Many people still believe that heartburn is a disease that causes excess stomach acid to be produced. However, more than 16,000 medical articles point to the fact that decreasing stomach acid does not really solve the basic problem, it only addresses the symptoms.
In fact, suppressing acid in your stomach can weaken your body's ability to kill helicobacter bacteria making the condition even worse. For most people acid reflux is caused by to little stomach acid being produced in the stomach.
Acid reflux occurs if food and acid from the stomach move upward, the wrong way. Acid reflux is a condition in which some acid for some reason is "leaking" out of the stomach and does not remain where is should. The main reason for this is that the muscular valve that should keep the stomach contents from getting out from your stomach is faulty.
Another possible reason is helicobacter pylori bacteria that can cause low-level inflammation of the stomach lining creating symptoms of acid reflux. In this case, probiotics works well to control the bad bacteria causing acid reflux.
For many people acid reflux gets worse during the night. But it can also occur in connection with certain physical activities. In addition, some suffers of food allergies have acid reflux.
Whatever the case, here is a list of common trigger of acid reflux:
Coffee
Alcohol
Heavy lifting
Bending over
All nicotine products
Eating a large, heavy meal
Too much running or jumping; athletes often suffer
Lying down; for some it gets worse when lying on their back
Hiatal hernia can be a cause for acid reflux, but this not dealt with in this post
Probiotics for acid reflux
Clinical studies show that probiotics is a safe and effective treatment for acid reflux and for a wide variety of other gastrointestinal disorders. For those with mild symptoms, consuming probiotics can resolve the problem entirely.
However, probiotics is not the only available treatment to control acid reflux and other gut problems. Why is this? Because some who suffer from heartburn also have other digestive problems. In any case, the goal should be to restore balance in the gut and this is something probiotics can do very well.
One reason for this is that probiotic bacteria support a rapid digestion and assimilation of food. Acid reflux is often caused by too little stomach acid which can cause food to remain for too long in the stomach causing irritation. Another benefit of probiotics is that it helps control helicobacter bacteria that are also a cause of acid reflux symptoms. What kinds of probiotics work for acid reflux?
Different kids of probiotics
Good sources of natural probiotics are fermented foods like natto, homemade sauerkraut, and fermented vegetables. Try eating a few tablespoons of fermented food daily. Besides the bacteria, fermented vegetables contain beneficial acids and other substances that promote a good digestion.
Homemade yogurt and kefir from raw milk is very beneficial. Yogurt is fast and very simple to make at home and can sooth a painful stomach.
Fresh cabbage juice for heartburn works marvellously because it stimulates the production of stomach acid. Many acid reflux sufferers have too little stomach acid. It's enough with a few tablespoons before meals.
Additional recommendations
U.S. News & World Report lists as ways to relieve heartburn:
Bend with your knees rather than bending at the waist
Go easy on caffeine and alcohol, and avoid cigarettes
Stay upright for a few hours after you eat
Don't eat too fast (very important!)
Avoid heartburn-triggering foods
Elevate the head of your bed
Wear looser-fitting clothes
Lose any extra pounds
Eat smaller meals
Find ways to relax
Learn to eat slowly
I can't stress this enough: eat slowly and chew the food thoroughly! It's amazing how many digestive problems can be solved just by doing this. Give the body time to produce enough stomach acid and digestive enzymes. This can greatly reduce symptoms of acid reflux. In addition, avoid eating late in the evening as this is known to increase symptoms. And you should of course avoid eating too much.
Avoid regular table salt
Regular table salt can aggravate symptoms of acid reflux. Instead, use high quality sea salt or Himalayan salt. Sea salt provides additional chloride needed to create hydrochloric acid in the stomach which helps with digestion. In addition, sea salt and Himalayan salt contains beneficial trace minerals.
Support digestion
Try drinking fresh vegetable juice which stimulates the digestive system. The ginger shot is a classic.
For immediate relief—sodium bicarbonate (baking soda)
Mix 1/2 – 1 teaspoon pure baking soda (without aluminium as Arm & Hammer or Bob's Red Mill) in a glass of water and drink it (best on an empty stomach). Remember, this is only a quick fix! In the long run you need other strategies.
Consuming probiotics for acid reflux is a simple, natural starting point. Probiotics are healthy, safe, relatively low-cost and works well for many gastrointestinal problems without side effects. But to reach optimal and lasting results, you should work out a complete strategy involving diet and lifestyle. Then you can learn to control most symptoms of acid reflux!