Probiotics and cancer might seem like an odd combination when discussing cancer prevention. Probiotics have many benefits, but could these bacteria also help prevent cancer from developing?
When someone is diagnosed with cancer, they often experience extreme anxiety and stress. This is because cancer is associated with severe sickness, gloominess and death. But also because conventional cancer treatment is often expensive, complicated, and can causes unpleasant side effects.
However, new, simpler strategies are emerging. For example, recent research suggest using microorganisms—probiotic bacteria.
Probiotics and cancer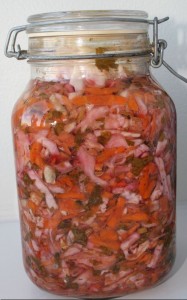 The human body is covered in trillions of microorganisms, both on the outside and the inside. These organisms colonize the digestive tract, the skin, and mouth. Each person has a unique colony that has developed since birth and is shaped by diet, lifestyle, and other factors.
The gut contains strains of the Lactobacillus family, which are also used to produce fermented foods like yogurt, sauerkraut, and fermented vegetables. Lactobacillus species are also included in many probiotic supplements.
In a 2016 UCLA study, Lactobacillus johnsonii 456 proved to reduce gene damage and greatly reduce inflammation in mice. Much research confirms that inflammation plays a major role in the development of cancer, heart disease, and autoimmune diseases. Therefore, the UCLA finding is intriguing.
The probiotic bacteria given to mice stimulated them to produce certain metabolites known to prevent cancer. For example lymphoma, a type of cancer that originates in the immune system, slowed down considerably in mice fed with probiotic bacteria. The mice also lived longer, had less DNA damage, lower inflammation, and an improved metabolism. The researchers stated: "Remarkably, our findings suggest that composition of the gut microbiota influences and alters central carbon metabolism in a genotype-independent manner."
The researchers continued: "Together, these findings lend credence to the notion that manipulating microbial composition could be used as an effective strategy to prevent or alleviate cancer susceptibility. In the future, it is our hope that the use of probiotics would be a potential chemopreventive for normal humans, while the same type of microbiota would decrease tumour incidence in cancer susceptible populations."
As the researchers say, there are strong indications that probiotics prevent cancer in animals. One can, therefore, wonder if humans would respond in a similar manner to probiotic treatment?
Probiotics prevent disease?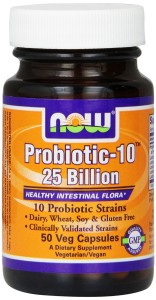 This research indicates that in the future it might be possible to use probiotics more effectively to prevent serious disease. How?
A doctor can analyze the bacteria residing in a person's gut and determine which specific bacteria strains are needed. After this, it's fairly easy to add the gut bacteria that are involved in reducing this individual's risk of developing cancer or other disease. But already now there is much we can do to prevent disease.
Suggestions
Consume a high-quality probiotic supplement containing a wide range of bacteria.
Consume fermented food as kefir, yogurt, sauerkraut, natto. Making homemade fermented food is inexpensive but very effective as it contains large amounts of bacteria, including lactobacillus strains.
Adding prebiotics (fibre) is another way to stimulate the growth of probiotic bacteria strains residing in the gut.
In addition, consuming less sugar and carbs and more healthy fats and fresh vegetables will cut the risk of developing serious disease.
If indeed the probiotics and cancer link is confirmed in humans, then it would be wise to consume probiotics on a regular basis.
Reference
Amrita K. Cheema, Irene Maier, Tyrone Dowdy, Yiwen Wang, Rajbir Singh, Paul M. Ruegger, James Borneman, Albert J. Fornace Jr, Robert H. Schiestl. Chemopreventive Metabolites Are Correlated with a Change in Intestinal Microbiota Measured in A-T Mice and Decreased Carcinogenesis. PLOS ONE, 2016 DOI: 10.1371/journal.pone.0151190
Note: Content may be edited for style and length.