Do probiotics adverse effects exist, or might there be side effects from something else? Most people who are consuming probiotics supplements and fermented foods on a daily basis do not experience any adverse effects.
Quite the contrary, probiotics are essential for optimal health and much more important than multivitamins.
For most people probiotics do not cause any adverse effects whatsoever
Indeed, our whole body is teeming with microorganisms and without them, we would not survive long. Friendly microorganisms in the gut are vital. It is estimated that 80% of the immune system is connected to the gut! Probiotics are generally accepted in the medical community as a harmless and very efficient, natural remedy.
Some experience headache, skin eruptions, bloating and other symptoms. Aren't these probiotics adverse effects?
What are probiotics adverse effects?
Some people who start consuming foods or supplements containing probiotics or beneficial bacteria experience a mild reaction. Some claim this to be "side effects." Why do such a seemingly adverse reactions occur? There are at least three possible explanations for this. Let us look at them one at the time starting with the most common.
1. Probiotics cleansing effect
Detoxification (or cleansing) is often mislabeled probiotics adverse effects. However, in most cases it is a positive sign that the body is ridding itself of toxins, bacteria or waste. Cleansing involves the process of removing waste or toxic substances from the body. This is essential to stay well. But the cleansing process can cause mild symptoms that some call probiotics adverse effects.
Each person has a unique gut microflora, like a fingerprint belonging only to one individual
Each person carries different levels of toxins and harmful microorganisms in the digestive tract. Therefore, each person will have a unique response to probiotics, whether from fermented food or a supplement.
Many people who consume fermented food do not experience any probiotics adverse effects at all. Others might have a mild reaction. Typical symptoms are…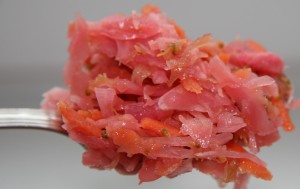 eczema
diarrhea
skin rash
headache
constipation
increased gas
symptoms similar to a cold
Such symptoms usually disappear after 1-3 days. In some cases, it might take a week or even two. For most this is completely harmless. And strictly speaking, this is not probiotics adverse effects, but rather probiotics cleansing effect!
How to  avoid detox symptoms
Probiotics help clean your gut and intestine. Harmful microorganisms die off and can release a dose of toxin which is removed in your stool. Usually, you don't even notice this happening. However, if there is more to clean out from the body and larger doses of probiotics is consumed, then the initial reaction might be more severe. Therefore, it is recommended to start with a smaller probiotic dose and to slowly increase the dose, carefully monitoring how you feel.
More harmful microorganisms in the body cause a stronger probiotic reaction

Some people may have suffered from a chronic condition for years and when consuming probiotics the body is stimulated to rid itself of toxins and other waste materials stored in the body. These are NOT probiotics side effects. But it shows that the probiotic bacteria is doing what they are supposed to do—they help keep your gut in a healthy balance!
A breakthrough study in 2010 concluded that probiotics rival the effects of those sought after by the pharmaceutical industry. Yet, with probiotics, there were no adverse effects whatsoever.
That would make sense. Probiotics are natural, friendly bacteria you get when eating fermented foods like sauerkraut, yogurt, and fermented vegetables. People have

been eating fermented foods for centuries without suffering any harmful side effects, quite the contrary. Many studies reveal that a lack of healthy, natural bacteria in the modern diet is linked to the prevalence of IBS, IBD, Crohn's, allergies, eczema, autoimmune diseases, autism, ADHD and a host of other health problems. Clearly, many health problems are "side effects" of modern living and a poor diet.
Probiotic bacteria produce organic lactic acid—these healthy acids lower the pH in the intestine, thereby promoting the growth of healthy bacteria colonizing your gut. Lactic acid also prevents the growth of bad bacteria and yeast like Candida. Natural, probiotic bacteria communicate with the cells in your gut, they create a healthy environment and this stimulates your body to start a detoxifying process; it wants to clean out waste, bad bacteria, and toxins produced by harmful microorganisms, toxins, and other waste. The natural state of your body is health and balance and probiotic bacteria are one major factor that strongly promote this.
When I started taking probiotics daily I got several symptoms like a headache, skin eruptions and tiredness. These symptoms passed after a week or so and left me feeling refreshed, detoxified; it's a good feeling!
If you want to avoid a reaction I recommend you start with a low probiotics dose and then slowly increase it, carefully monitoring how you feel.
If you will start eating fermented vegetables you should be careful because the effect can be strong of you have a lot to clean out, and many do. One tablespoon is good to start with.
2. Probiotics adverse effects because of low-quality ingredients
Unhealthy ingredients can cause a reaction with people who have allergies or intolerances to these substances. Even healthy individuals can get adverse reactions from unhealthy additives. Therefore, avoid unhealthy additives included in low-quality probiotics supplements (however, "traces" of these substances are usually harmless):
Some manufacturers add synthetic, diary-based, or gene modified ingredients. For example, many coated probiotics are treated with a polymer of acrylic acid, a synthetic chemical sprayed onto the capsule. Even though the strains of bacteria might be of good quality, synthetic ingredients can cause adverse reactions in your body.
Therefore: Probiotics are not the problem, only poor manufacturing principles causing unwanted side effects
Always choose probiotic supplements with high quality, natural ingredients that will not make your health suffer.
Or even better, start making your own fermented vegetables at home. I do this all the time and my family loves it—it's simple, tasty and very health-promoting.
3. Probiotics adverse effects because of serious disease
It could be wise to first consult with your doctor or health practitioner if you suffer from serious liver problems, venous catheterization, pancreatitis or if you're immunosuppressed; this is a state in which the immune system is suppressed by medications during the treatment of other disorders, like cancer, or following an organ transplantation.
It has been reported that such serious conditions can cause adverse reactions when taking probiotics. It's not always clear why this happens, or even if the probiotics is to blame. The human body is very complex and especially during treatment of a serious health problem can this be seen—it's always wise to be careful.
If you're not sure about how probiotics might affect your condition, discuss is the issue with your doctor or health practitioner before you start using it.
Always listen to your body!
This principle applies to all treatments: If it hurts or feels wrong, stop it and discuss it with your health practitioner. We are all unique individuals and how we react to any treatment or supplement depends on many factors.
The microflora in your gut is formed according to your genetic makeup, your lifestyle, how you eat, drink and sleep, your level of stress and much more. Therefore, even though you many not experience any probiotics adverse effects, your needs will be unique; you might want to try several different sources of probiotics and find what fits your body best.
However, for the great majority of people, there are no harmful probiotics adverse effects.