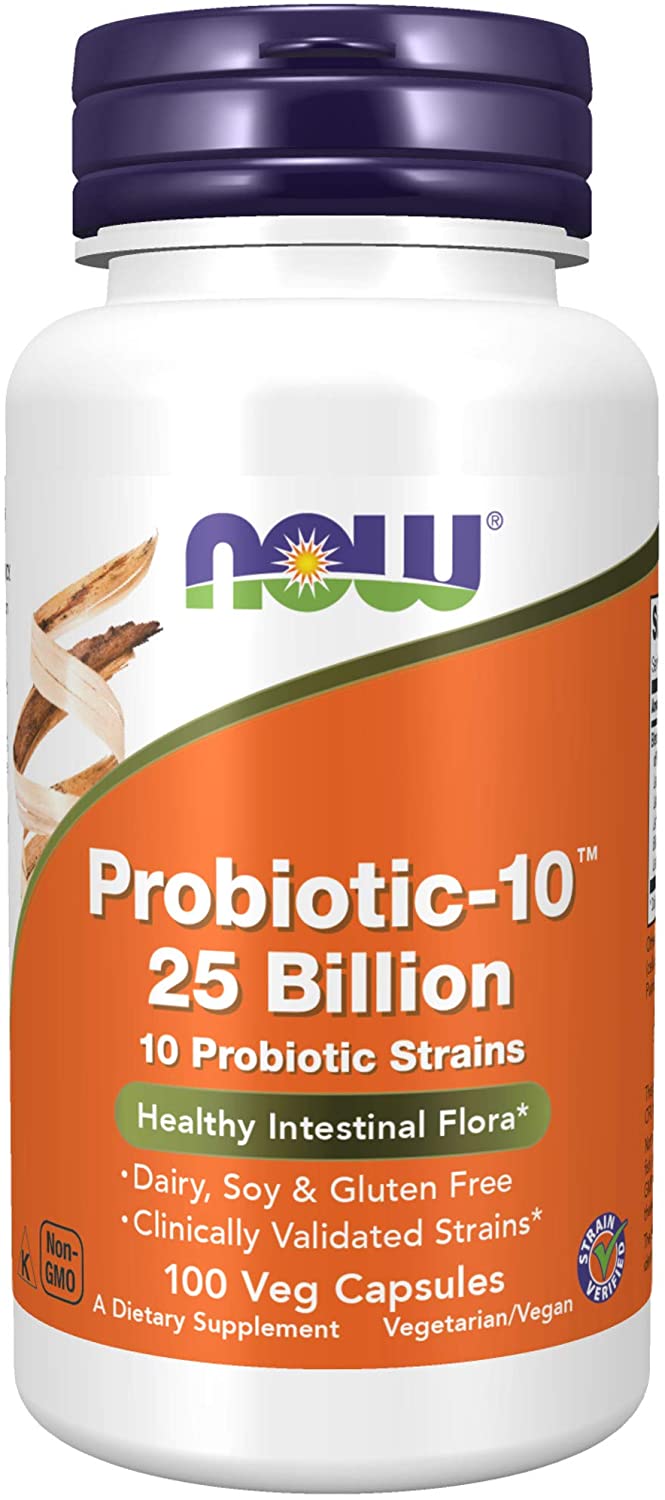 Now Foods Probiotic-10 is a popular probiotic supplement and a best seller on Amazon.com. Now Foods is a well-established and family-owned brand that I have learned to trust. Now Foods Probiotic-10 has been around for a while and I have tried and tested it many times and always been happy with it. Probiotic-10 has received good reviews for its purity, safety, and good value.
Now Foods Probiotic10 summary
Now Foods Probiotic-10 features
You can get a good feel of a supplement by reviewing its main features.
"10" on the label refers to 10 bacteria strains; all are well-researched and beneficial in this combination.
Bacteria are of three types—Lactobacillus (L), Bifido (B), and Strepto. (list below); the gut loves diversity.
I long complained about the small bottles; they now offer larger size bottles which is more practical.
Available in 25, 50, and 100 billion CFU; they all contain the same 10 probiotic bacteria strains.
The bacteria are acid-resistant to protect them from the harsh stomach environment.
Manufactured without wheat, gluten, soy, milk, egg, fish, shellfish or tree nut.
Suitable for vegetarians
Certified Kosher
Choose between different strengths
Now Probiotic-10, 25 Billion. Check price. Good for daily maintenance to keep the digestive tract in balance.
Now Probiotic-10, 50 Billion. Check price. More bacteria enhance the benefits. To properly evaluate, you need at least a few weeks or more. This strength has a stronger effect on bloating, constipation, gas, and other mild digestive issues.
Now Probiotic-10, 100 Billion. Check price. With this strength things really starts to move in the gut. Great to bring on trips abroad for protection from bacterial infections. Stronger effect on inflammation and good when on antibiotics.
Verdict
Now Foods Probiotic-10 is well-composed and worth trying. Manufacturing principles are high, the homepage is informative and helpful. Many satisfied customers add to the trust of this brand. Combined with an appealing price tag makes this supplement worth a try. Now Foods employs an impressive army of experts—biochemists, microbiologists, nutritionists, food technologists, and product formulators. All their lab chemists have scientific degrees so they're serious about quality.
NOW Foods Probiotic-10 contains the following bacteria
L. acidophilus
L plantarum
L. rhamnosus
L. paracasei
L. salivarius
L. casei
B. lactis
B. breve
B. longum
Strepto. thermophiles