Mercola Ketoenzyme is designed for those on a high-fat diet like keto, paleo, LCHF and similar. It is not uncommon for people on a high-fat diet to feel heavy after eating the main meal of the day. The Mercola Ketoenzyme is one great way to promote a rapid fat digestion which can resolve digestive issues.
Heavy feeling after eating?
There are several possible reasons.
Many over age 30 have an impaired ability to produce enough enzymes for digesting and absorbing fat (also protein and carbs). Therefore, a high-fat diet can make the gut feel heavy and uncomfortable.

Ideally, a healthy gut should absorb some 95% of the fat consumed. But if absorption falls by 5-10%m below this, it can cause symptoms like a heavy feeling, acid reflux, constipation, pain, a feeling that food remains undigested too long in the stomach.

If you are on a keto diet and have only one main meal per day, then this meal might be quite heavy for the digestive system even if your gut is working properly.

Those

who are switching from a high-carb diet to a keto diet often experience symptoms of indigestion until the gut adjusts to the new high-fat intake.
NOTE: Not digesting fat properly decreases keto diet benefits
Mercola Ketoenzyme is designed to increase the speed of fat digestion. And more rapid digestion lessens many uncomfortable symptoms. Let's look at how Ketoenzyme works.
Mercola Ketoenzyme
Here is a summary of the main features of Mercola Ketoenzyme.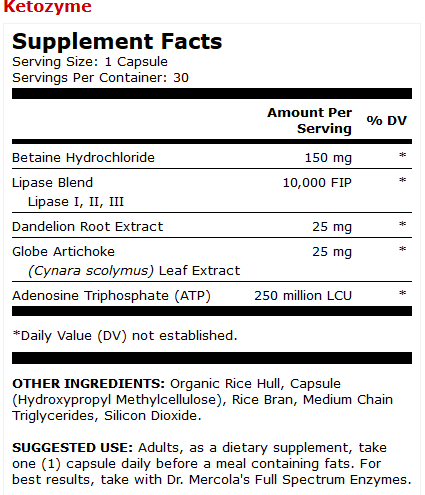 Betaine Hydrochloride (HCl) increases stomach acid which is essential for a rapid and complete digestion of proteins and fats. Too little stomach acid can cause many digestive problems including acid reflux, indigestion, gas, bloating, and more.
Lipases (a blend of 3 different kinds) are enzymes that support the gallbladder which must work well to digest fat. Lipases also break down fat (triglycerides) and promote the body's usage of fat, vitamins, and minerals. Lipase is also involved in weight control. In short: Lipase streamlines the fat digestion process.
Dandelion root extract contains

kynurenic acid

(an amino acid) which promotes the production and the flow of bile from the liver through the gallbladder. This is important so that the body can digest fat. Dandelion also supports liver function and helps the body to detox.
Globe artichoke leaf extract (Cynara scolymus) supports the liver, gallbladder, bile flow, and promotes the digestion and absorption of fat. It lessens digestive problems like constipation, fat intolerance, gut pain, bloating and much more.
Adenosine triphosphate (ATP) is a powerful molecule that signals the body to start the digestion process. ATP greatly supports the intestine. In addition, ATP is an energy carrier essential for all cells in the body. ATP helps increase muscle mass and strength during exercise and promotes a normal heart function.
What about cost?
A bottle with 30 capsules is $17. This is much cheaper than many other ketoenzyme brands! If you take this only once a day with the main, high-fat meal, then a bottle lasts for a month. The low price makes it a good companion to a full spectrum enzyme supplement. Those two together can resolve many digestive problems (see below).
Verdict
Mercola Ketoenzyme works very well and ingredients are of high quality! Very effective for those on a keto diet. Using this supplement makes digesting high-fat meals so much easier.
How to take Mercola Ketoenzyme
The recommended dose is one capsule with a meal containing fat. But what if this does not solve all digestive problems? As a reminder: learn to eat slowly, and chew the food well. This is especially important when having only one large meal per day. It's amazing how many gut problems can be solved just by eating slowly. And it's free! Give the body enough time to produce stomach acid, enzymes and other substances needed for a good digestion. However, some people might still need more digestive support. Here are a few suggestions.
Combining Mercola Ketoenzyme with other enzymes
Many people on a high-fat diet consume between 50-80% of daily calories from fat. Olive oil, coconut oil, butter, and ghee are healthy and popular alternatives. For such fats the Mercola Ketoenzyme works very well. But in some cases, it might not solve all digestive problems.
Consider the following suggestions:
If you are a vegetarian, vegan, or if you only occasionally consume meat or sea-food, then it might be enough with Mercola Ketoenzyme for good digestion. However, if you still have symptoms, then try to take Ketoenzyme together with Mercola Full Spectrum Enzymes for Women (and vegetarians). This combination is effective, but might work best if you don't eat too much protein.
If you consume more protein (red meat, poultry etc.), then a better combination is to take Mercola Ketoenzyme with a full spectrum enzyme supplement designed for more protein.
Try adding fresh low-carb vegetable juice daily. The juice is packed with enzymes and supports the entire digestive system. Lemons, apples, and ginger are beneficial. But many other vegetables can also improve digestion. Try the superb and popular ginger shot.
In any case, Mercola Ketoenzyme will in most cases increase the speed of digestion which can solve many digestive problems.
Reference: Body Ecology