Hyperbiotics Pro-15 is a popular probiotic supplement and a best seller on Amazon.com. It has also received much praise from satisfied customers. Therefore, a Hyperbiotics Pro review seemed just right.
This is an updated review to check Hyperbiotics manufacturing principles, composition, choice of bacteria and how the supplement works overall. I also included a few additional supplements in the Hyperbiotics Pro series.
Hyperbiotics Pro-15 features
I've tried to make this overview as brief as possible for the main points to stand out.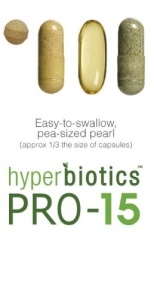 Each Hyperbiotics Pro-15 pearl contains 5 billion CFU delivered through a BIO-Tract system. This is a patented delivery system to ensure that bacteria are protected and delivered live through the harsh stomach environment. It meant that what you have paid for is really delivered. Excellent!
They've packed 15 bacteria strains of three major types into a very small pearl. More bacteria strains mean greater diversity which has many health advantages. The body loves diversity! Each bacteria adds specific health benefits as you can see at the end of this post. In addition, different bacteria work together in synergy, promoting even more benefits.
Hyperbiotics uses time release to deliver live bacteria which has many benefits. This slow release can decrease symptoms when the gut environment slowly improves. Common symptoms include bloating, constipation, gas, and pain. It can be more severe in case of candida and other infections.
The pills are really small and very easy to swallow.
They use LiveBac® technology to ensure shelf-life stability which might make refrigeration unnecessary. However, it does not hurt to keep the bottle cold. Probiotics should be consumed fresh. Shelf life is 18 months at room temperature.
Hyperbiotics homepage has a decent amount of information about manufacturing, production, goals and who they are. It all looks reliable.
What about cost?
The regular Hyperbiotics Pro-15 bottle with 60 capsules sells for $25 (June 2018), which is a competitive price. And you get much for the money.
It contains 15 strains of well-researched bacteria
Well composed and backed by sound research
Many satisfied customers add to the confidence of Hyperbiotics as a brand
Hyperbiotics homepage offers plenty of facts and information about manufacturing
The pills are natural—no soy, sugar, iron, wheat or other chemicals or preservatives
The verdict
Highly recommended! Hyperbiotics Pro-15 is a great supplement that should cover the needs of most people. Hyperbiotics has become a trusted brand, offering a range of good quality products. In addition, many satisfied customers add much trust.
How to take Hyperbiotics Pro-15
Take the pills on an empty stomach. Since Hyperbiotics uses a time-release, some prefer taking it in the morning to allow for the bacteria to be released into the gut during the day. However, I think that taking the pill at any time will most likely bring similar benefits.
The recommended serving is one pill per day. But as with most supplements, you should adjust the dose according to your condition. In the case of an inflammatory condition or infection, the dose can slowly be increased to as much as 3-7 pills per day. Or it might be better to try Hyperbiotics Advanced Strength below, containing more bacteria.
Sometimes a higher dose can cause mild symptoms like bloating, gas, skin rash or other symptoms; try lowering the dose. Such symptoms are in most cases completely harmless and a sign that the probiotic bacteria are active in the digestive system. In most cases, symptoms disappear after a few days or so when the gut has adjusted.
Other Hyperbiotics Pro supplements
Hyperbiotics offers a range of probiotic supplements, some of which aim to alleviate certain specific conditions. Here's a brief overview and review:
Hyperbiotics PRO-Women. Check Price In addition to six probiotic bacteria strains, this product also contains cranberry extract. In the case of a urinary tract or bladder infections, this is an excellent alternative to antibiotics. Research confirms the effectiveness of cranberry extract for infections and the ulcer-associated bacterium, Heliobacter pylori.
Hyperbiotics PRO-15 Advanced Strength. Check Price Contains 15 billion CFU, three times more than the standard Pro-15. However, a lab test revealed that it actually contains twice the amount than stated on the label. That's very generous! Advanced Strength also includes kiwi extract to support colon health. Kiwifruit is high in natural enzymes like actinidin that promotes good digestion. Hyperbiotics Advanced Strength can be used until the condition improves. Then it might be enough (and cheaper!) to continue with the regular Hyperbiotics Pro-15.
Hyperbiotics PRO Dental. Check Price An interesting supplement. Three billion CFU including S. salivarus M18, S. salivarus K12. (Study M18. Study K12.) Studies confirm that these bacteria are able to promote dental health, prevent tooth decay, protect gum health and protect against harmful microorganisms. Also effective to prevent bad breath. Promote healthy sinuses and throat.
Hyperbiotics PRO-Immune. Check Price Contains 4 billion CFU, 5 bacteria strains and EpiCor, a whole food yeast fermentate that seems to effectively boost the immune system. This is a potentially very potent and effective combination to fight off virus and bacteria. The Hyperbiotics Pro-Immune is a great alternative during the cold and flu season.
Hyperbiotics PRO Kids. Check Price Contains 3 billion CFU in each pill. And the pills are even smaller than Hyperbiotics Pro-15, almost 50% smaller. So they are easy to swallow, and if chewed still taste good. Pro Kids is recommended for children from age 4 and up. Hyperbiotics Pro Kids uses four probiotic bacteria strains, known to be especially beneficial for children. They are L. plantarum, L. acidophilus, B. infantis, B. lactis.
Hyperbiotics Pro-15 composition
Hyperbiotics Pro-15 contains probiotic bacteria of three main types. Nine Lactobacillus (L) strains, four Bifido (B) strains, and one Streptococcus (S) strain. These bacteria are well-researched, safe and have proven highly beneficial for all sorts of digestive health problems.
Below is a summary of potential health benefits when consuming specific probiotic bacteria. However, in reality, the different bacteria work in synergy and promote countless processes and activities in the body, much more than can be shown here.
| | |
| --- | --- |
| L. acidophilus | The most commonly used probiotic bacteria. Create lactic acid and hydrogen peroxide that keeps unwanted microorganisms out of the gut. Used to combat effects of antibiotics, treat constipation, diarrhea, IBS, Crohn's and many other inflammatory conditions. Can reduce cholesterol levels. Studies have shown that those taking L. acidophilus experienced significant relief from their gastrointestinal discomfort. |
| L. casei | Converts lactose into lactic acid, which is beneficial for lactose intolerant ones. L. casei also promotes growth of other beneficial bacteria in the gut. |
| L. fermentum | Antimicrobial, antioxidative, prevent growth of harmful bacteria, yeast and other harmful microorganisms. Stimulate the immune system. |
| L. gasseri | Has the ability to break down oxalate, a substance that can cause many problems in the body including kidney stones. L. gasseri is found in different parts of the body where it produces hydrogen peroxide, a strong antioxidant that helps keep cells healthy. |
| L. paracasei | Used to treat diarrhea in infants, pollen allergies and patients with chronic fatigue syndrome. |
| L. plantarum | Also found in fermented foods as kimchi, sauerkraut and fermented vegetables. L. plantarum creates a barrier in your colon to keep bad bacteria from penetrating the lining and entering the blood stream. It produces the very potent antioxidant hydrogen peroxide which is a powerful weapon in the body against bad bacteria and disease. |
| L. reuteri | Found in breast milk and therefore transferred to the baby. Effectively treat rotavirus-induced diarrhea, prevent gut infections, colic and in fighting H. pylori causing peptic ulcers and protects against harmful bacteria as E. coli, candida and possibly even some parasites. L. reuteri also seem to promote oral health. |
| L.rhamnosus | A powerful defense against diarrhea and bacterial food poisoning. Effectively promotes destruction of harmful bacteria. L rhanosus stimulates the body to manufacture natural antibiotic substances that effectively fights disease and increases the resistance to viral infections. |
| L. salivarus | Promotes oral and intestinal health by surpressing harmful bacteria. L. salivarus is very powerful and can deal with a wider spectrum of harmful organisms in the gastrointestinal tract. It also alleviates symptoms of flatulence from IBS. |
| B. breve | Symptoms as diarrhea, allergies, gas, and IBS are often linked to a shortage of the B breve bacteria. B breve ferments sugars and thereby produces lactic acid and acetic acid, both is which has a number of health benefits. B breve is able to break down many foods and plant fibers that are considered non-digestible. |
| B. bifidum | Aids in the synthesis of B-complex vitamins and the important vitamin K2. It is effective in the treatment of diarrhea, including infectious diarrhea and diarrhea associated with the use of antibiotics. |
| B. infantis | Produces vitamins as thiamine, nicotinic acid, B12, biotin, and folic acid. Involed in reducing symptoms of gastrointestinal disorders, diarrhea, flatulence, bloating, cramping and constipation. Helps combat Irritable Bowel Syndrome (IBS), improves digestion and the body's ability to digest and assimilate nutrients. |
| B. lactis | Assists in decreasing the amount of Helicobacter pylori in the stomach. H. pylori can cause infections appearing as gastritis, abdominal pain, nausea, bloating and other symptoms. B. lactis is also in the front line in your immune system. |
| B. longum | Breaks down carbohydrates, fights free radicals and reduces the effects of seasonal allergens. Interestingly, B. longum has the amazing ability to regulate mood and relieve anxiety by transmitting signals to your brain. |
| S.thermophiles | Found in yogurt and other fermented milk products. S. thermophiles help lactose intolerant ones to digest diary products. This culture helps maintain normal intestinal flora. Research indicates that S. thermophiles lowers the risk of lung cancer. |