Preparing homemade probiotics drinks like yogurt or kefir with probiotics is very simple. I recently made a new batch of kefir that I enjoyed immensely. Let me show you how easy it is.
Kefir and yogurt are very similar probiotics drinks, but they contain different strains of bacteria and yeast. Of the two kefir has some advantages.
However, both yogurt and kefir with probiotics are excellent. The same process can be followed for both.
It takes 15 minutes to prepare a batch of healthy kefir
Both Kefir and yogurt are cultured milk products, but they contain different types of beneficial bacteria.
Yogurt contains probiotic bacteria that keep your digestive system clean and provide food for the friendly bacteria that already are present.
Kefir contains bacteria that affect the gut differently; it help colonize the intestinal tract with beneficial bacteria, something yogurt cannot match.
Kefir: two ingredients needed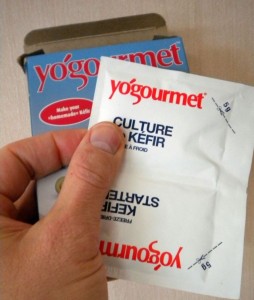 Raw, unpasteurized milk is a good choice (hough commercial goats or cows milk can be used). The raw milk I use here contains 4.3% fat making the legit creamier.
A culture starter (Kefir or yogurt starter). There are many culture starters around. The one I wanted to try here is a very inexpensive starter called Yogourmet Kefir Starter. If you want more bacteria strains, try Body Ecology as they make really good culture starters.
Step-by-step guide
Step 1: Warm the milk slowly in a pan until it reaches skin temperature. It means that when dipping your (clean) knuckle or finger into the milk, it should not feel warm or cold.
NOTE: Don't overheat the raw milk or you risk killing the good bacteria and ruin the enzymes. In addition, use only instruments thoroughly cleaned in hot water.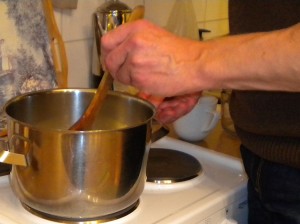 Stir gently with a clean instrument. It will take just a few minutes until the milk reaches skin temperature.
Tip: Avoid heating raw milk in the microwave oven as you could ruin the natural nutrients in the milk.
Step 2: Pour the milk into a bowl (cleaned in very hot water before) and empty the culture starter into the milk. Because the milk contains natural bacteria, it could ferment without a culture starter. But a culture starter adds more bacteria strains and yeast and this raises the quality and taste of the kefir or yogurt.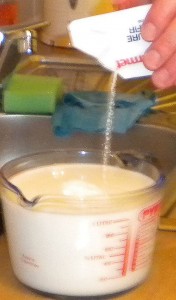 The starter culture instructions recommend using 5 grams of Kefir starter for one quart of milk (one liter). When I tried this the result was OK. But I felt something was wanting in my Kefir and therefore, this time, I added 10 grams of Kefir starter to about 1.5 quarts of milk (1.5 liters). The result was much better; the kefir became thicker and creamier.
Tip: This kefir starter was not the best one I've tried, but it was the cheapest. You can also use a probiotic supplement as a starter; this will create a probiotics drink packed with more healthy bacteria strains. More on starter cultures.
Step 3: Stir the milk gently to dissolve the culture starter. Now the live bacteria will wake up, become active and start consuming sugars in the milk; this also starts the fermentation process.
Sometimes you might see lumps of culture starter in the milk. You need to dissolve the starter culture completely by gently whisking the milk until there are no lumps left.
Step 4: Put the bowl aside in your kitchen for 24 hours. I stir the milk a few times during these 24 hours because I think it makes the Kefir ferment better. Try how you like it best.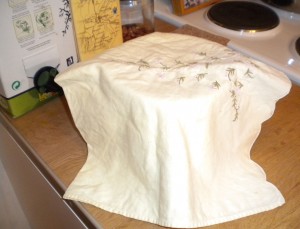 Step 5: After 24 hours at room temperature, refrigerate the Kefir for some hours before you eat it. Cooling the Kefir will calm down the fermentation process. Now taste your batch; enjoy a refreshing, healthy probiotics drink packed with nutrients!
Kefir contains friendly bacteria not found in yogurt
For example Lactobacillus Caucasus, Leuconostoc, Acetobacter species, and Streptococcus species. It also contains beneficial yeasts, such as Saccharomyces Kefir and Torula Kefir, which help balance the intestinal flora, including promotion of beneficial yeast in the body by penetrating the mucosal lining.
These bacteria and yeast form a virtual SWAT team that housecleans and helps strengthen the intestines. Kefir's active yeast and bacteria may provide more nutritive value than yogurt by helping digest the foods that you eat and by keeping the colon environment clean and healthy. The curd size of Kefir is smaller than yogurt, so it's also easier to digest, making it an ideal food for babies, the elderly, and anyone with digestive health concerns.
Kefir FAQ
How long can I keep the Kefir in the fridge?
I usually save it for five to seven days and it still tastes fresh. If you keep the Kefir in an air-tight container it will prevent it from being affected by other strong-smelling foods in you fridge and it will stay fresh much longer. In addition, it helps if you keep the temperature a bit lower in your fridge.
Can I make a new batch using an earlier batch?
Yes, this works very well with Kefir and yogurt but not with vegetables. I've done this many times and what seems to work well is to take about 6 tablespoons of the old batch and mix it with the new one. Then the process is the same as above; lets it stand at room temperature for 18-24 hours, then put it in the fridge. But some people have had problems with this.
Problem with using earlier batches
Some people have complained that it does not work and the end product has a poor taste. Please remember that preparing Kefir is not an exact rocket science; you're dealing with live culture and controlling all factors involved in fermentation demands being careful. Most people fail because of neglecting something in the process.
Using some Kefir from an earlier batch to start new one demands careful attention because it is easy to fail and then blame the starter culture, thinking there's something wrong with it.
For example, if you transfer too much Kefir to the new batch, you risk accelerating fermentation too much and the Kefir might taste too sour.
In addition, keeping the Kefir too long in room temperature can ruin the batch; the higher the temperature, the faster your Kefir will be ready. But if you wait too long you might end up with a too sour, tangy and lumpy kefir.
Kefir should be a little thicker than milk and this process talks between 18-24 hours depending on your room temperature.
When you do it correct, you can make as many as seven such "transfers" from one starter culture packet, and each batch will last for 5-7 days when refrigerated.
Don't be afraid to experiment a little until you get it all right and the product meets your demands and satisfies your taste buds.