Fermenting vegetables with a starter makes things easier. I've tried many good and bad culture starters and after trying Mercola Kinetic Culture, I think it is among the best. This recipe shows how using a starter makes fermenting vegetables simple.
Why fermenting vegetables using a starter is better
Kinetic Culture is for fermenting vegetables. So if you are preparing yogurt, kefir or some other mild product, then you need another starter, as Body Ecology Kefir Starter.
Kinetic Culture contains 10 different probiotic bacteria strains, all suitable for vegetable fermentation. But why do you need a starter?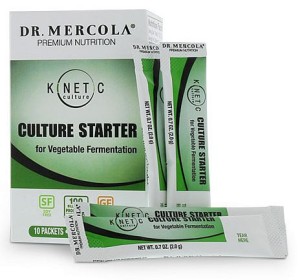 A good starter has many advantages
More hydrogen peroxide, lactic acid, ketones, and other potent substances are produced during fermentation
Stable and predictable fermentation, even if home conditions are not perfect
More probiotic bacteria
Lessen risk of unwanted microorganisms
More vitamin K2 formed
Crunchier veggies
Recipe
The following recipe is great both if you're a beginner or more experienced. It contains the following ingredients (amounts approximate):
green cabbage (50%)
red cabbage (25%)
carrots (20%)
ginger (5%)
Celery juice
Himalayan or sea salt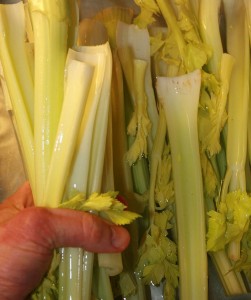 1. Prepare celery juice for brine
With Mercola Kinetic Culture you add about one gram for each quart (1 kg) of vegetables. Mix the starter in a vegetable juice and let it sit for 20 minutes or so.
When fermentation is complete, the celery taste is integrated with the vegetables. You won't feel like you are eating celery. Celery juice has great properties that help preserve the veggies. If you absolutely don't want celery, try cabbage juice.
If you don't have a juicer, here's another way to prepare brine: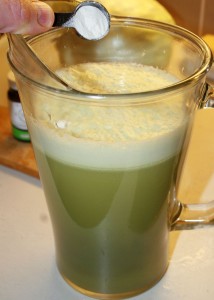 Dissolve the starter in 1/2 a cup lukewarm water (not hot). Let the juice sit for 20-30 minutes to allow bacteria to activate.
Put a few cups of the shredded vegetables into a blender. Add a little water to create a thick, smoothie-like porridge. Add the 1/2 cup of starter. This will be the brine to add later in the recipe.
2. Shred the vegetables
I prefer finely shredded vegetables, but you can do it as you like. I think shredding finer makes the final product a bit easier to consume, mainly because cabbage could become chewy if shredded too thick.
When you have shredded all veggies, mix them thoroughly in a big bowl as seen below.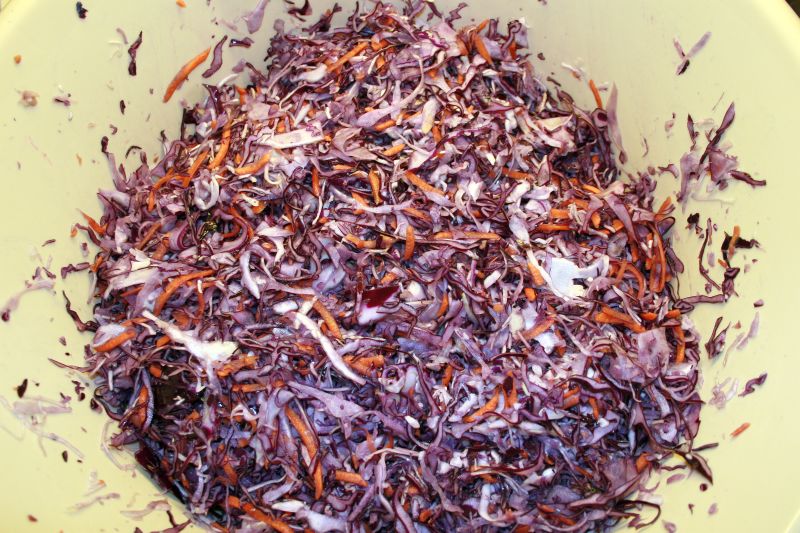 3. Add the celery juice
Now you can add the celery juice with the starter into the veggies. Mix the starter thoroughly with the vegetables so that the probiotic bacteria is evenly distributed. Add salt. How much? It's a matter of taste, but one or two tablespoon per quart is fine.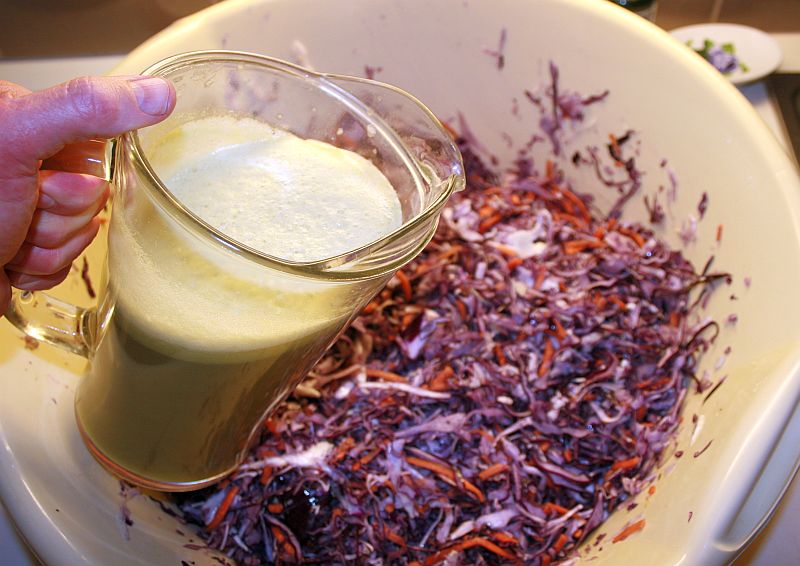 4. Pack the jars
Pack the jars as tight as you can. You can use your fist to press the veggies together in the jar. But don't fill the jars completely full, but leave 25-30% empty. Pour all the liquid left in the bowl into the jars. There should be enough liquid to cover all the vegetables. If not, add water until vegetables are completely covered.
Put a cabbage leaf on top in each jar. This is a simple way to keep the vegetables submerged in the brine. Oxygen is a main enemy that can spoil fermentation.
Don't screw the lids on too tight for the first few day. The pressure will build and gas needs to escape.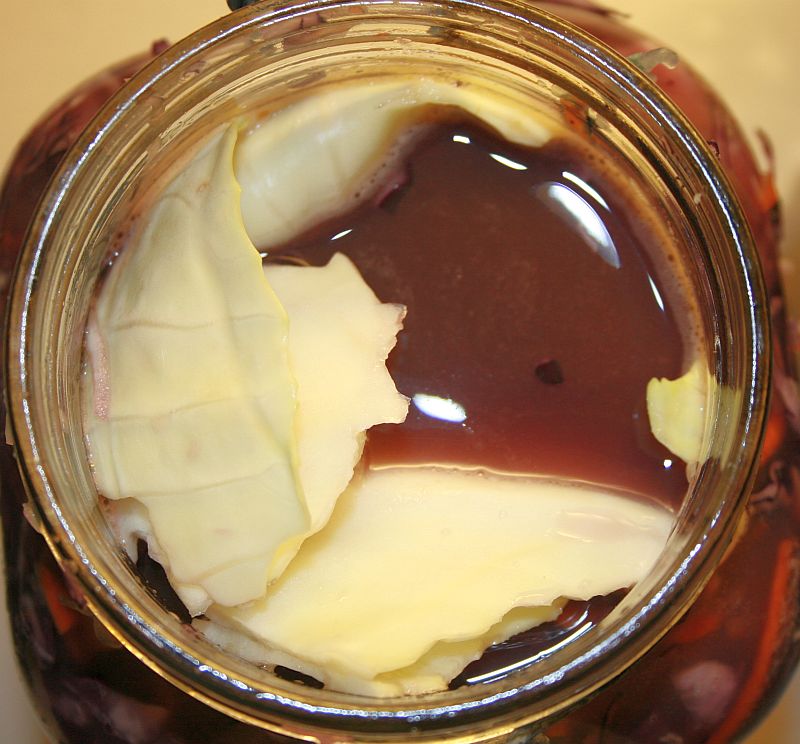 5. Ferment for ≈ 7 days
Keep the jars for around seven days at room temperature (around 68 to 72 F; or 20 to 22 C). A little warmer or cooler than this might not make a big difference. However, the higher the temperature, the greater the risk of mould and mushy vegetables.
Taste the vegetables from day 3 to see when you think they are ready.
Fermenting in a cool temperature: Try leaving the jars to ferment longer. I've left my jars for up to 15 days and it worked fine.
Fermenting in a hot climate: check this post for suggestions.
Storing fermented vegetables
When fermentation is complete, store the jars in the fridge or in some other cool place. Fermentation will continue, but at a much slower pace. In a cool place the fermented vegetables will stay fresh for many months. In fact, I think that the taste slowly improves with time and becomes more complex.
When consuming the fermented vegetables, discard the cabbage leave on top. If it has been in contact with air it might have a foul taste.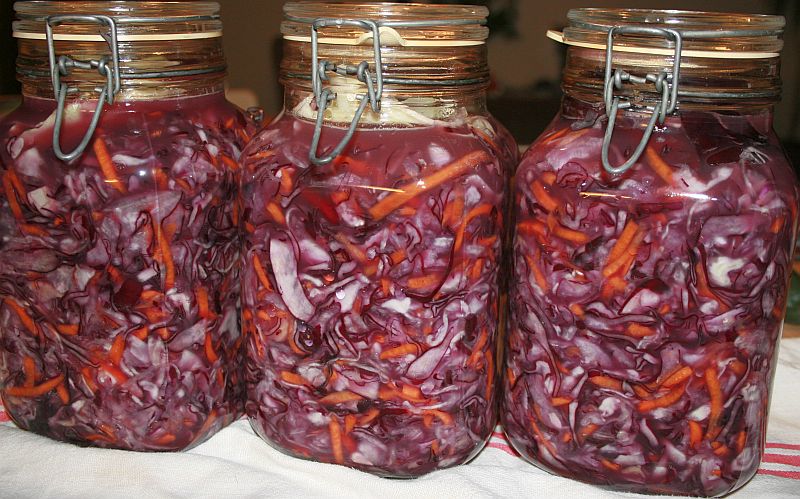 As you can see, fermenting vegetables with a starter culture is simple, but the fermented product can be complex in taste.