Fermented food allergy or sensitivity can be hard to recognize! The following questions might help:
Do you get headaches or a migraine after drinking red wine?
Does fermented cheese like Parmesan, blue cheese and Roquefort trigger some reaction?
Have you had a reaction after eating commercially fermented soy, pickles or sauerkraut?
If you said yes to one or more of these questions you might want to investigate if you suffer from fermented food allergy or sensitivity. However, be aware that fermented food allergy can be a little tricky. Reactions to fermented meat, dairy, and other products are quite common, but finding the root cause requires effort.
Fermented food allergy can have hidden causes
Having fermented food allergies or intolerance does not always mean avoiding all fermented foods. Some people are still able to enjoy homemade sauerkraut, fermented vegetables or yoghurt.
This post is written with the intention to assist in identifying what specific fermented foods can cause adverse effects. When identified, such foods should be excluded to avoid reactions. Even though numerous factors come into play, common allergy triggers in fermented foods are biogenic amines. What are they? How can you avoid them?
Biogenic amines and fermented food allergy
Biogenic amines are substances created by certain bacteria that break down amino acids in food. Amines are present in some (not all!) foods that are overcooked, processed, ripened, fermented or decomposed. Amines cannot be removed by boiling or any other method.
In healthy individuals, biogenic amines like are quickly broken down by a healthy intestine and liver. Enzymes in the body such as MAO (monoamine oxidase) render amines harmless.
However, some people are missing the MAO enzyme, or it can become sluggish or blocked. This can lead to a build-up of amines in the body causing symptoms. Some drugs like antibiotics and antidepressants can also inhibit the actions of the MAO enzymes. This can cause…
stomach problems,
mental confusion,
depression,
a migraine,
vomiting,
itching,
fever,
rash,
and other
Biogenic amines can affect a person mentally, blood pressure, body temperature, and other body processes.
There are also different degrees of intolerance. Some people are just a little sensitive while others experience severe reactions even from small amounts of amines. A few older studies showed that some people can get migraine attacks if they drink water containing as little as 1 mg of tyramine chloride, an amine.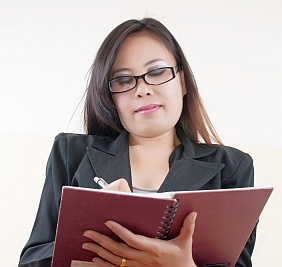 Many people are intolerant only to one or two specific amines (usually histamine and tyramine) while other amines might not bother them at all. However, even though identifying the specific amines triggering your symptoms can be hard, you can still alleviate symptoms.
If you suspect a fermented food allergy, try the following:
A

good start is to keep a log of what you eat and drink. You might be able to discern a pattern and determine what kind of fermented food is linked to a headache, migraine or other symptoms. This can also

help you to identify specific amines causing the symptoms.
Find a specialist who knows what biogenic amines are. Some people test negative for allergies but still have a biogenic amine intolerance. Be sure the doctor knows what Diamine Oxidase (DAO) and Monoamine Oxidase (MAO) are before consulting him. These enzymes are responsible for degrading two of the most commonly identified biogenic amines, histamine, and tyramine.
A good way to avoid biogenic amines is by consuming fresh produce and avoiding commercially fermented foods. Remember: Buy fresh, cook fresh, eat fresh.
Yoghurt and similar dairy products are safe if the bacteria have been chosen especially not to produce biogenic amines.
Homemade yoghurt and fermented vegetables are usually safe.
Some feel it helps to take a high-quality probiotic supplement.
Common biogenic amines
| | | | | |
| --- | --- | --- | --- | --- |
| Tyramine | Histamine | Phenylethylamine | Agmatine | Putrescine |
| Cadaverine | Spermidine | Typtamine | Adrenaline | Serotonin |
For many histamine and tyramine are most toxic
NOTE: Please be aware that similar symptoms can be caused by salicylates and glutamates. People who try to avoid amine-rich foods sometimes say 'I try avoiding amines but I still have the same symptoms'. Sometimes this is because migraines can be provoked by other food chemicals.
Fermented foods containing amines
Here's a list of a few fermented foods that contain amines and that can cause symptoms in those with intolerance or sensitivity. Please keep in mind that in many foods there can be a wide difference of tyramine concentration in different parts of the same food. Poor quality food also tends to contain higher amounts of amines, as does food not properly stored, cleaned or prepared.
Red wine headaches
Many people get a headache after drinking red wine, which is a fermented drink. The symptoms can occur 15 minutes after drinking a single glass and might be followed by nausea and flushing. Some researchers believe this might be caused by tyramine and histamine present in red wine, even though other potential causes also exist (like tannins and sulphite). In one study on alcohol, red wine and Sake (an alcoholic beverage of Japanese origin made from fermented rice) were found to have the highest amine levels, while some beer had the lowest levels. Red wine can contain between 20–200% more histamines than white wine.
Beer
Can contain tyramine and phenylethylamine if the malt is infected, or because of a later infection. It seems that the amine contents vary from brewery to brewery. In some studies, bottled/canned beers had the highest levels. Only 12% of tap beers had higher levels while the rest had low levels of tyramine.
The "cheese effect"
There are two main types of cheese—fermented and non-fermented. To ferment cheese live bacteria cultures are needed. The bacteria feed on the lactose in the milk, producing biogenic amines as a by-product. This process is often called ageing. In one study they found that 18 of 26 kinds of cheese (26%) had high levels of tyramine.
In the 1960s, a British pharmacist noticed that his wife developed a headache every time she ate cheese high in tyramine and at the same time taking MAOI antidepressants. It was discovered that certain drugs as MAOIs (monoamine oxidase inhibitors) inhibit the breakdown of tyramine causing a build-up in the body leading to high blood pressure, headaches, itchy skin rashes, heart palpitations and diarrhoea. In fact, a number of MAOI patients died from strokes or heart attacks before doctors realized that patients taking MAOIs needed to avoid foods high in tyramine. There is also a rare condition where people are born without the MAOA gene and, therefore, lack the MAO enzyme.
Chocolate
The cocoa bean is fermented to achieve its flavour. Dark chocolate contains the chemical tyramine, which has been found to trigger migraine headaches in the majority of migraine-prone subjects tested in some studies, according to the Clemson University Extension. Phenylalanine, another component of chocolate, has been shown to trigger migraines in about half the migraine-prone subjects in another study. However, if you're a chocolate lover, you could try raw, unfermented cocoa beans or nibs.
Yoghurt
Much of the commercially produced yoghurt contain tyramine and sometimes phenylethylamine. However, you can make your own homemade yoghurt free of tyramine. High-quality starter cultures will prevent the creation of amines. One reason for this is because they are composed of probiotic bacteria strains that do not produce amines and even prevent the development of amines.
Drugs
Many drugs contain amines, including over the counter cold tablets, decongestants, nasal drops or sprays, some pain relievers, general and local anaesthetics and some antidepressants. Be sure to check labels and ask your doctor before taking new drugs.
Biogenic amines in sauerkraut
A study in 1999 aimed to determine levels of biogenic amines in 121 sauerkraut samples. They tested Austrian manufacturers, household-prepared and sterilized with brine in jars. Even though very wide variations occurred, there were generally low concentrations of amines in sauerkraut.
Lowest concentrations of amines found in household-prepared sauerkraut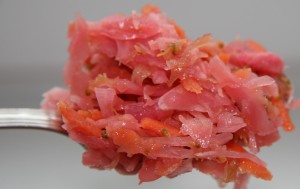 Another study made in 2011 tested levels of biogenic amines in spontaneously fermented sauerkraut, during 45 days of storage. They added three different probiotic bacteria strains to ferment cabbage, Lactobacillus plantarum, Lactobacillus casei and Lactobacillus curvatus.
After fermentation, they compared amine levels in jars where probiotic bacteria had been with jars without the added bacteria. This is the result:
Adding probiotic bacteria created much lower biogenic amine levels in fermented cabbage. All biogenic amine levels were below the 100 ppm threshold. Histamine and tyramine were essentially absent during 45 days of storage.
Fermenting cabbage without adding probiotic bacteria as a starter produced a higher amount of amines. When Lactobacillus bacteria were not added, the dominant biogenic amines created were putrescine, tyramine, and histamine. The longer the sauerkraut was stored, the higher the levels of amines created.
Conclusion: Use of starter cultures to ferment a vegetable mix prevents the extensive formation of biogenic amines.
This means that if you're sensitive to amines, you might still be able to enjoy homemade fermented vegetables, sauerkraut or yoghurt.
Spoiled food packed with biogenic amines = food poisoning
The concentration of biogenic amines in food is an indication of how much they have rotted or decomposed. High concentrations of biogenic amines can cause food poisoning no matter how healthy you are. In lower concentrations, these same chemicals can trigger migraine attacks in susceptible sufferers.
Food freshness is a key factor to avoid biogenic amine side effects
The way meat is distributed in supermarkets can cause problems if you're intolerant to amines. Most meats are vacuum packed, repacked and sold as fresh which means it can be up to ten weeks old when you eat it.
Studies show that vacuum packing can prevent the growth of bad bacteria but does nothing to prevent the development of biogenic amines.
Experience shows that if you're sensitive to amines, you need to learn much about the history and freshness of your foods; you need to approach all possible amine-containing foods with caution.
Other foods containing biogenic amines
Certain bacteria are often used to process many commercially produced foods and as a result, these foods can contain high amounts of biogenic amines.
For example, fermented soy and canned tuna are known to be very high in histamine, cadaverine, and putrescine.
Aspartame (Nutrasweet). It is used as a sweetener in many drinks and 600 different foods. It contains phenylethylamine and can cause many problems even in healthy individuals.
In one study they analysed 45 commercial fish sauces and 23 soy sauces for their biogenic amine content. They reveal that content of biogenic amines varied from 100 mg/kg to 4000 mg/kg, depending on the method of manufacture. The content of biogenic amines in soy sauces was generally much lower than in fish sauces. Tyramine was the main biogenic amine in soy sauce while fish sauces contained high concentrations of tyramine, histamine, tryptamine and others. The levels of biogenic amines in fish sauces were at a level equivalent to that found in other matured foods like matured cheese.
As said before, biogenic amines are formed when amino acids in food are broken down. High concentrations can, therefore, be found in fish and fish products that have not been kept according to hygiene guidelines.
Foods to suspect
This table gives you an idea of what foods are responsible for side effects. The high-very high group contains 10-100 times more amines, salicylates and glutamates than the low-medium group. Exactly what foods you could eat and how much depends on how sensitive your body is.
Try keeping a log to learn which foods cause a reaction. Generally, fresh, organic foods are much safer than processed, stored products.

Negligible
Low-medium
High-Very High
Tacos
Apples
Apricots
Gooseberries
Rhubarbs
Strawberries
Cherries
Asparagus
Cabbage
Capsicum
Carrot
Celery
Corn
Cucumber
Green Peas
Lettuce
Lima Beans
Onion
Potato
Soy Bean
Turnip
Zucchini
Herbs
Pepper
Spices
Coffee
Lemonade
Milk (Goat, Cow)
Tea
Fresh Cottage Cheese
Yoghurt
Soy Milk
Tofu
Tofu Ice Cream
Emmental
Jaalsberg
Almonds
Cashews
Macadamia Nuts
Pine nuts
Pistachio
Brazil Nut
Sesame Seeds
Sunflower Seeds
Kiwifruit
Lime
Oranqe
Tanqerine
Broccoli
Cauliflower
Olives
Eggs
Beef
Chicken (No Skin)
Fish (White Meat)
Lamb
Rabbit
Sausage Casing
Turkey (No Skin)
Veal
Canned Salmon
Chicken Liver
Chicken Skin
Meat Older Than 2 Days
Frozen Chicken
Frozen Meat
Frozen Turkey
Fresh Tuna
Champagne
Blackcurrant
Grapefruit
Rockmelon
Red Wine
Dark Chocolate
Black Walnut
Spicy Flavoured Snacks
Brie
Camembert
Miso
Roquefort
Parmesan
Smoked Meat, Chicken
Chocolate Drinks
Cocoa
Spinach
Meat Pies, etc.
Pate
Salami
Sausages
Cola Type Drinks
Orange Juice
Tomato Juice
Vegetable Juice
Anchovies
Beef Liver
Brains, Kidney, Tripe
Canned Tuna
Dried, Smoked Fish
Fish Roe
Cheddar Cheese
Danish Blue
Edam
Leicester
Limberger
Mozarella
Swiss Cheese
Histamine-rich foods trigger reactions
Something that is easy to forget is that consuming different foods containing histamines at the same time will increase the risk of adverse effects. People who have low levels of the enzyme diamine oxidase cannot break down all the histamine that their body absorbs from food. This would be histamine intolerance.
Depending on how the food is produced histamine levels differ greatly.
Dried fruits such as apricots, dates, prunes, figs and raisins (some might eat these fruits without reaction if thoroughly washed first)
Vinegar or vinegar-containing foods, such as mayonnaise, salad dressing, ketchup, chilli sauce, pickles, pickled beets, relishes, olives
Soured bread, such as pumpernickel, coffee cakes, and other foods made with large amounts of yeast
Fermented foods, such as pickled or smoked meats, commercially produced sauerkraut
Aged or fermented cheese, such as Parmesan, blue and Roquefort and others
Sour cream, sour milk, buttermilk, and yogurt; especially if not fresh
Processed meats—sausage, hot dogs, salami and others
Smoked fish—herring, sardines, and others
Yogurt, most commercially produced
Alcoholic drinks as wine and beer
Cider and homemade root beer
Mushrooms
Anchovies
Avocados
Spinach
Tomatoes
Eggplant
Mackerel
Sardines
Histamine-Releasing Foods
Some foods might be low in histamine but they tend to stimulate the body to release histamines. The following foods are examples of this:
Eggs
Fish
Milk
Alcohol
Papayas
Bananas
Shellfish
Chocolate
Pineapple
Tomatoes
Strawberries
Resolving fermented food allergy
First, you might want to try a low-amine diet to confirm that you are not intolerant to any amines. If not, then your case is much easier to deal with.
If you suspect amines being the cause, then you want to determine which amines are triggering your symptoms—histamine, tyramine or others.
When you have a pretty good idea of possible triggers of symptoms, then treating fermented food allergy or intolerance includes avoiding all food triggering an adverse effect.
After avoiding biogenic amines for a while, then the same foods can slowly be reintroduced to your diet to confirm the intolerance of this particular food. Otherwise, you might end up with a long list of foods to avoid when in reality not all those foods will trigger your allergy symptoms.
As you can see, revealing the real cause of fermented food allergy involves becoming your own detective. Your assignment is to investigate the intriguing case of your own body. This requires patience and determination. But it can be done. And in the end, I hope it will help you feel better.
References
Biogenic amines in fermented foods