Dr Mercola Complete Probiotics has been a favourite with many for a long time. Dr Mercola's enthusiasm for probiotic bacteria and fermented food is well known. Mercola Complete Probiotics supplement has received much praise from consumers and in independent lab tests. And after using this supplement myself for over one year, I got a pretty good picture of the quality.
Mercola Complete Probiotics
It does not take much research to realize that Dr Mercola sticks to high manufacturing principles for his probiotic supplements. He has included high quality and potent bacteria and in large quantities in his New Complete Probiotics.
Dr Mercola Complete Probiotics is backed by academic and scientific research including patents, trademarks, and awards. There are also independent lab tests done that confirm the potency and quality of all the Mercola Probiotic supplements.
Summary of features
Contains the super-strain Lactobacillus acidophilus DDS-1 (very few supplements include this)
Contains a minimum of 70-90 billion bacteria in one serving (2 capsules)
Acid and bile resistant to survive the stomach and intestinal transit
Non-dairy, free from soy, corn, wheat, and gluten, and is non-GMO
10 different well-researched, highly beneficial bacteria strains
Is stable at room temperature for at least 2 years
Uses nitrogen packaging and is freeze-dried
Capsules are vegetable-based. B
Benefits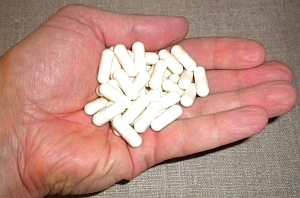 Mercola New Complete Probiotics contains a high CFU. Also very interesting is one bacterium that not many supplements include, Lactobacillus acidophilus DDS-1 (see end of post.). This has some unique properties and powerful health benefits.
During my first test of this supplement some years back I had a very problematic gut so I was a good guinea pig. The positive effect started after a week and reached a maximum after about a month or so. One immediate effect was a more stable digestive tract, regular bowel movement and an overall pleasant feeling of comfort.
The most stubborn gut problems started to fade slowly after a few months. Bloating, gut pain, inflammation and other symptoms diminished by some 70%, and later were completely gone.
Many satisfied customers report a positive experience from using Dr Mercola Complete Probiotics which is a good sign that it contains a successful combination of bacteria that is live and active.
What about cost?
The large bottle with 180 capsules is $78.00 (June 2018).

The recommended daily serving is two capsules. However, some people have noticed that after taking two capsules for a month or so, they are able to go down to one capsule per day and still get the desired effect. This way the price gets more attractive. You can also take two capsules per day for a month and then stop for a few weeks and then start again. For some this works well and also lowers the cost.
Additional Mercola Probiotics
Complete Probiotics for Women. Check price. This is a new supplement that is an adapted version of the standard Complete Probiotics. The adaption to women is interesting since recent research has revealed that women respond to certain bacteria more than men, especially about weight loss.
Mercola Probiotic Packets for Kids. Check price. Great for children (and others) who dislike capsules. The packets are prepared to just open and swallow. Uses the same formula as Complete Probiotics, just a lower CFU that might be better for kids. The packets contain no sugar but are delicious. They have a fruity raspberry, strawberry and lemon taste that is hard to resist. The packets can be taken as it or mixed with water or juice. Each packet contains 10 billion CFU.
Complete Probiotics Powder Packets. Check price. For adults who dislike capsules. Same formula as the Complete Probiotics capsules. Delicious, fruity taste and very addictive and refreshing.
L. acidophilus DDS-1
All of Dr Mercola Probiotic supplements mentioned above contain the unique bacterium Lactobacillus acidophilus DDS-1. Why is this noteworthy?
L. acidophilus DDS-1 is a highly effective bacteria strain. There are other strains of Lactobacillus acidophilus out there, but without the extension DDS-1. The DDS-1 strain has some powerful properties.
Properties of L. acidophilus DDS-1
Produces significant quantities of lactase, which is excellent for lactose intolerant people
It's acid and bile resistant for intestinal survival; most other bacteria are not this sturdy
Adapts exceptionally well to the human body, and it very easily colonizes in the gut
I has an extra strong effect on the digestive system
Has a powerful support for the immune system
Studies on effectiveness of DDS-1
In 2010, a major health centre conducted a review on DDS-1 and bowel health. After 60 days of treatment, most subjects showed significant improvement in abdominal health, bloating and occasional elimination irregularities.
2003: L. acidophilus DDS-1 support the epithelial cell lines
1997: In animal research, DDS-1 was shown to support the production of immune components. DDS-1 performed better than three other strains of Lactobacillus acidophilus and Bifidobacterium bifidum.
All of the Mercola Complete Probiotics are great supplements and highly recommended. The supplements are suitable for most people, especially those with a problematic gut.