Doctor's Best Betaine HCL Pepsin & Gentian Bitters is another well-composed supplement from this company. I have tried and reviewed many Doctor's Best supplements and I've always found them of high quality. Therefore, I'm not surprised that most people respond well to the ingredients included in this supplement.
However, some people might need to try different digestive enzyme supplements to find one with a composition that fits their needs.
Doctor's Best Betaine features
This supplement contains three main ingredients aimed at supporting the digestive process.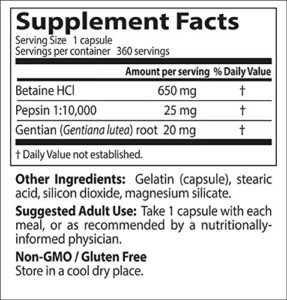 Betaine (650 mg). This is an amino acid involved with liver functions, digestion and promotes the breaking up of fats and proteins. Betaine can alleviate bloating, constipation, indigestion, and heartburn. Renoves the feeling of being stuffed after a meal. Betaine is sometimes used to increase muscle mass, improve endurance and to lower the risk of heart disease.
Pepsin (25 mg). A digestive enzyme produced by the body. Pepsin works in conjunction with stomach acid and supports protein digestion. Pepsin also helps alleviate swelling and inflammation.
Gentian (20 mg). Gentian is an excellent bitter herb that stimulates the body's production of digestive enzymes. The bitter taste is from a number of compounds like iridoid glycosides, alkaloids, xanthones, triterpenes, pectin, tannin, and mucilage. Gentian is included in Ayurveda herbal medicine and Traditional Chinese Medicine. It promotes appetite and stimulates the production of digestive juices, helps treat a sluggish digestion, circulation, and the activity of glands and organs. Gentian is a liver tonic and stimulates the production of bile, saliva. It can alleviate inflammations in the gallbladder.
Benefits
All three ingredients above work well together to improve digestion. Here are some main uses for this supplement.
Acid reflux: Heartburn is often caused by too little stomach acid. Therefore, undigested food in the stomach cause many unpleasant symptoms. But adding betaine with main meals is an easy way to improve digestion and minimize such problems.
Assimilation of nutrients: The body's ability to produce stomach acid starts to decrease around age 30, and this can cause bloating and constipation which can get worse with age. Additional betaine HCI can greatly improve digestion and assimilation of vital nutrients.
Food sensitivity: In some cases, an improved digestion can also alleviate sensitivity to gluten and dairy products.
How to take Doctor's Best Betaine & Gentian Bitters. The recommendation is 1 capsule with each main meal. Some people say they feel better with two capsules, especially after a heavy meal. It's also reported that taking it just before the meal works best. Try what works best for you. But you should notice an immediate improvement after the meal.
Some people have been able to resolve most gut issues just by taking a digestive supplement. Others might require additional strategies. One excellent combination is adding probiotics or some fermented food that works in synergy with betaine and gentian bitters.
Cost
A bottle with 120 capsules costs less than $10 (October 2019). If you take one capsule per day to the main meal, the bottle will last for months. And even if you take two capsules per day before the main meals, the cost is still ridiculously low; it's a lot of bang for the buck! Great value!
Verdict
Doctor's Best is well known for their high-quality supplements and taking betaine, pepsin, and bitters before a meal can make a big difference. Many satisfied customers indicate that Doctors Best Betaine & Gentian Bitters works very well for most people. I've tried this supplement several times and found it effective.
However, some people might need a wider range of enzymes to completely resolve digestive issues. You could try Doctor's Best Digestive Enzymes which is more complex and with a fuller range of potent enzymes.