Bone broth is gut balsam! Sipping on a bone broth feels soothing and can quickly calm an upset digestive tract. Bone broths are used for constipation, bloating, diarrhoea, a leaky gut, and for general food sensitivity.
Bone broth contains many important nutrients like calcium, silicon, glucosamine, essential amino acids, cartilage and much more. Therefore, a good bone broth can help prevent osteoarthritis, osteoporosis, and even autoimmune disorders. Broths have been used to reduce inflammation, prevent infection, promote healthy bones and much more.
Bone broth ingredients
Meat and fish stocks provide building blocks for the rapidly growing cells of the gut lining and they have a soothing effect on areas of inflammation. This is why they have been known for centuries as a healing remedy for the digestive tract.
Some people enjoy the heavy, fatty beef stock together with all the fat; for them, it feels like gut-balm. However, you can also remove the layer of fat that forms after the broth has cooled down. Try also the much lighter chicken and fish broths.
NOTE: most commercially available soup stock granules or bullion cubes are highly processed and is not a healthy choice. However, broth is simple to prepare at home and is very nutritious.
Chicken stock is particularly gentle on the stomach, has a mild taste, and is often used in cases of food sensitivity, intolerance or allergy.
Bones and joints provide most of the healing substances, more than the meat. Bone marrow is very nutritious. Use organic bones, or bones from local farmers. Wild game bone broths prepared from moose, wild boar, or caribou is superb, has a stronger taste, and usually contains less fat.
Most recipes include some of the following:
Joints
Bones, tendons, sinews
Meat left on the bones
A whole chicken
Giblets from chicken, goose or duck
Whole pigeons, pheasants or other inexpensive meats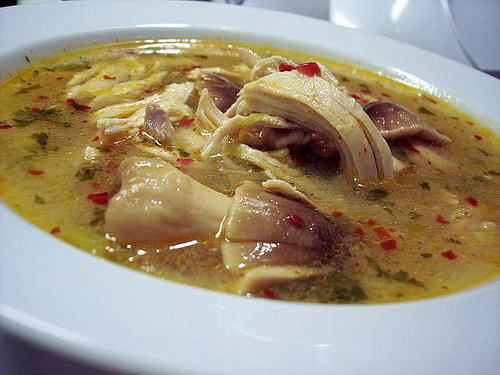 Bone broth recipe
Put bones, joints and meats into a large pan, fill with water
2 tablespoons apple cider vinegar in 4 quarts water
Himalayan or sea salt at the beginning of cooking
Bring to boil, remove the foam on the surface
1 teaspoon whole black peppers, roughly crushed
A few chopped celery stalks
A few chopped carrots
1 chopped onion
Minced garlic
A few bay leaves
Optional: turmeric, sage, rosemary, cayenne, cloves, fresh ginger
Cover with lid, simmer on low heat for 6-24 hours; the longer the better
If using a pressure cooker, cook for about 3 hours
NOTE: bone broths can be stored in the fridge for 5-6 days; in a freezer for 6 months.
Fish stock
Follow the same procedure as with beef and chicken broths above. Use whole fish, fins, bones, and heads.
4 pounds fish; rinse and clean from blood
One glass of dry white wine
2 onions, 2 carrots, some celery stalks, 2 bay leaves, a little parsley and thyme
Instruction
Add fish, white wine in a large pan, with enough water to cover all ingredients
Bring to a boil, skim off the white foam on top
Reduce heat, add rest of ingredients, let simmer for 20 minutes
Remove from heat, allow to cool for 10 minutes
Take the bones and meats out and sieve the stock to remove small bones and peppers
The soft tissues from the bones can be collected and added to soups later
Fish stock will keep in the fridge for about 3 days, but several months in the freezer. For additional benefits, add some fermented vegetables or fermented garlic after the soup has been heated.
Bone broth soup recipe

Bring some of the meat stock to a boil, add chopped or sliced vegetables like onions, carrots, broccoli, leeks, cauliflower, courgettes, marrow, squash, pumpkin, and simmer for 25-35 minutes.
In case of a leaky gut or other digestive disorders, avoid fibrous vegetables such as cabbage and celery.
Cook vegetables well until they are really soft
Add 1-2 tablespoons of chopped garlic and turn heat ofF
A nice variation is making a smooth soup using a blender
Bone broth recipes are very diverse and can be adapted to mosts tastes. We never seem to get tired of them, especially because consuming them brings so many health benefits.