Bio-Kult Advanced Probiotic Formula was developed by a team of respected nutritional specialists including Dr Natasha Campbell-McBride. She is known for her research and treatment of a wide range of autism disorders using probiotics and other natural approaches.
Bio-Kult is an Amazon's Choice supplement and very popular. It's recommended for sufferers of IBS, Candida, urinary tract infections, inflammations, bacteria, virus, and when on antibiotics. Let's look a little closer on this supplement.
Bio-Kult features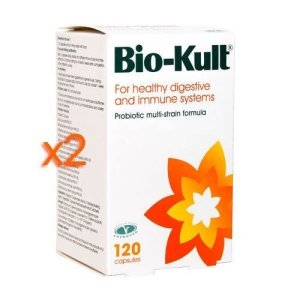 Here's a summary of Bio-Kult features. I've tried to make it as short as possible to get an overview.
14 strains of probiotic bacteria. This is an impressive collection! (See list below)
Bacteria are protected by the capsule from the harsh acid environment in the stomach. This makes it possible for the bacteria to colonize the digestive tract. Only live bacteria can get to work in the gut.
Can be stored at room temperature which is practical and convenient when travelling.
Bio Kult is fine for vegetarians and lactose intolerant people. However, it can contain traces of soy and milk products. Though levels are too low to be harmful for most people (except for those with milk allergy).
Is non-GMO, contains no gluten, eggs or nuts.
Each capsule contains over 2 billion probiotic microorganisms (or 10 billion probiotic microorganisms per gram). This is satisfactory.
Bio-Kult is the recommended supplement for those on the GAPS diet, sufferers of ADHD, autism, depression, anxiety and similar disorders.
Many satisfied costumers report a repaired digestive tract. lower inflammations and other conditions.
Awards: Bio-Kult was named best supplement and herbal product by readers of Natural Pharmacy Business magazine for two years.
Cost
The large package with 120 capsules cost around $36. This is an appealing price considering that Bio-Kult contains 14 potent bacteria strains.
Bio-Kult Probiotic verdict
It is a well-composed supplement containing a great variety of probiotic bacteria. The creators of Bio-Kult include well qualified nutritional specialists. It is a great supplement that can be used by most people and can be used for a wide range of digestive problems. Many satisfied customers add trust to this brand. Highly recommended!
How to take
This depends on what condition is to be treated and how the body responds; each person is different. But it's always wise to start low with one capsule once or twice per day. The dose can be increase to four capsules per day, for example when on antibiotics. However, take the probiotics at a different time away from antibiotics.
Additional Bio-Kult supplements
Bio-Kult Candéa. Amazon's Choice supplement. Contains garlic and grapefruit seed extract that strengthens and widens the effect of the probiotic bacteria. Excellent choice for sufferers of yeast overgrowth as candida. Bio-Kult Candea is a good option if you're sensitive to other probiotic supplements. It contains seven bacteria strains (1 billion CFU per capsule). The capsules can be pulled apart and the powder used on food or in drinks. Bio-Kult Candéa contains the following:
Garlic (60mg): Proven very effective for Candida and other harmful microorganisms
Grapefruit seed extract (130 mg): Studies show it's highly effective against yeasts and mold
L. casei, L. rhamnosus, L. acidophilus, L. delbrueckii ssp. Bulgaricus, S. thermophilus, B. breve, B. longum
Bio-Kult Pro-Cyan. Amazon's Choice supplement. Uses a potent formula with cranberry extract, friendly bacteria and vitamin A. This formula has proven beneficial for urinary tract infections caused by E.coli and other bacteria. Some reports say this formula works as well as, or even better than antibiotics. Each Bio-Kult Pro-Cyan capsule has the following ingredients.
Cranberry extract (18 mg)
Vitamin A (retinyl acetate 160 mcg): Supports immune system and mucous membranes in urinary tract
Two live bacteria strains (500 million CFU): L. acidophilus, L. plantarum
Bio-Kult Infantis. Amazon's Choice supplement. A formula aimed to benefit the immune system and gut health of infants and children. In fact, in 2014 Bio-Kult Infantis was awarded Best New Product by readers of True Health magazine. It contains seven strains of live probiotic bacteria, generous amounts of omega 3 (DHA + EPA powder) and vitamin D3 (2.5 mcg per sachet). Bio-Kult Infantis can be mixed with milk, water or food. Great formula to prevent allergies, combat diarrhea, colds and inflammatory conditions.
Bio-Kult composition
This list all the 14 bacteria included in the standard supplement. These are all potent strains and many of them you can find naturally in fermented foods like yogurt, sauerkraut or Kefir. However, when these bacteria are combined they work in synergy and become much more effective.
| | |
| --- | --- |
| Streptococcus thermophilus | High potency culture that helps maintain normal intestinal flora |
| Lactococcus lactis ssp. lactis | Found in raw yogurt, support healthy immune responses. |
| L. salivarius | Promotes intestinal health and oral health. |
| L. rhamnosus | Promotes destruction of harmful bacteria and absorption of minerals by aiding in the digestion of lactose. It causes the body to manufacture natural antibiotic substances to fight disease, increasing your resistance to viral infections. |
| L. plantarum | Found in kimchi, sauerkraut and fermented vegetables. It creates a barrier in your colon to keep bad bacteria from penetrating the lining and entering the blood stream. |
| L. helveticus | Prevents growth of bad bacteria, promotes anti-tumorigenic activity, anti inflammatory. |
| L. delbrueckii ssp. bulgaricus | Used as a starter for yogurt, fermented milk, and some cheese. |
| L. casei | Promotes growth of other beneficial bacteria. |
| L. acidophilus | The most commonly used probiotic bacteria. Creates lactic acid and hydrogen peroxide. Used to combat effects of antibiotics, treat constipation, IBS, Crohn's and many other inflammatory conditions. |
| Bacillus subtilis | Interesting bacteria commonly found in soil; can tolerate extreme environmental conditions. |
| B. longum | Can relieve anxiety by transmitting signals to your brain. Helps keep your digestive system running smoothly, and helps support your immune system |
| B. infantis | Produce vitamins thiamine, nicotinic acid, B12, biotin, and folic acid. Treats abdominal pain, discomfort, bloating, bowel movement, and inflammatory conditions. |
| B. breve | Diarrhea, allergies, gas, and IBS are linked to a shortage of the B breve bacteria. It ferments sugars thus producing lactic acid and acetic acid. B breve can break down many foods and plant fibers that are considered non-digestible. |
| B. bifidum | Often used in probiotic supplements. This bacterial strain occurs naturally in the colon and aids in the synthesis of B-complex vitamins and vitamin K. It is effective in the treatment of diarrhea, including infectious diarrhea and diarrhea associated with the use of antibiotics. |