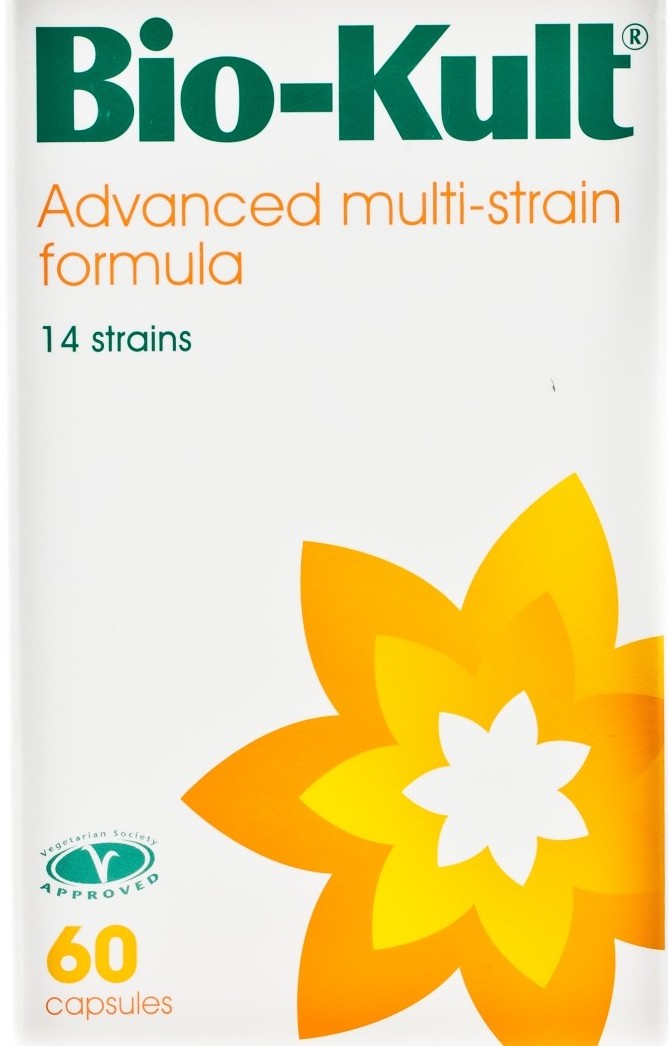 Bio-Kult Probiotics is an award winning formula developed by a team of respected nutritional specialists. It's also very popular and has received many positive reviews. Here is a summary of pros and cons of buying Bio-Kult probiotics:
Bio-Kult Probiotics
Many satisfied costumers report good results with Bio-Kult. What are the reviews saying? That Bio-Kult improves the digestive tract, lessens constipation, IBS, and lowers inflammations. Some say they use Bio-Kult to prepare fermented milk products which I find curious. The 14 probiotic bacteria strains is a nice feature as the gut loves diversity (list below).
The recommended dose is 1-2 capsules once or twice daily. Let your individual needs determine how you take. Increasing the dose is good when on antibiotics, travelling, or when fighting an infection. A package with 120 capsules cost around $35. If the capsules feel to large, try emptying the in a glass of juice or water.
Is it worth trying?
Absolutely. It has a great variety of probiotic bacteria and can be used by the entire family for a wide range of digestive problems. Many satisfied customers indicate that it works well.
Bio-Kult Probiotics series
They offer several different probiotic supplements aimed at specific needs. Here's a summary of some of them. Most of these supplements are also Amazon Choices.
Bio-Kult Boosted. Contains eight billion CFU which I think is better for an adult with gut issues than the standard two billion. It includes vitamin B12. However, I think it's too expensive. If you want more bacteria at a lower price, check Now Foods Probiotic-10.
Bio-Kult Candéa. Contains garlic and grapefruit seed extract that strengthens and widens the effect of the probiotic bacteria. Many customer reviews claim it works well for yeast overgrowth. It contains seven bacteria strains (1 billion CFU per capsule). The capsules can be pulled apart and the powder used on food or in drinks.
It contains the following:
Garlic (60mg) for Candida and other harmful microorganisms
Grapefruit seed extract (130 mg) works against yeasts and mold
Probiotic bacteria: L. casei, L. rhamnosus, L. acidophilus, L. delbrueckii ssp. Bulgaricus, S. thermophilus, B. breve, B. longum
Bio-Kult Pro-Cyan. Formula includes cranberry extract, probiotic bacteria, and vitamin A. Good for urinary tract infections; many report good results. Each capsule contains the following:
Cranberry extract (18 mg)
Vitamin A (retinyl acetate 160 mcg), supports mucous membranes in urinary tract
Two bacteria strains (500 million CFU): L.  acidophilus, L. plantarum
Bio-Kult Infantis. An award winning formula aimed to benefit infants and children. It contains seven probiotic strains, generous amounts of omega 3 (DHA + EPA powder), and vitamin D3. It can be mixed with milk, water, or food.
Infantis aims to prevent allergies, colds and inflammatory conditions in children.
Bio-Kult standard and Boosted contains the following bacteria
This list the 14 bacteria included in the standard and Boosted supplements. Most of these bacteria can also be found naturally in fermented foods. However, combined like this is great as they work in synergy and are able to produce much more than can be reflected in this table.
| | |
| --- | --- |
| Bacterium | Description |
| Streptococcus thermophilus | High potency culture to maintain intestinal flora |
| Lactococcus lactis | Also found in raw yogurt; supports a healthy immune response |
| L. salivarius | Promotes intestinal and oral health |
| L. rhamnosus | Promotes destruction of harmful bacteria; aids in digestion of lactose |
| L. plantarum | Also found in kimchi and fermented vegetables |
| L. helveticus | Prevents growth of bad bacteria; anti-inflammatory |
| L. delbrueckii bulgaricus | Used as a starter to make yogurt, fermented milk, and cheese |
| L. casei | Promotes growth of beneficial bacteria |
| L. acidophilus | The most commonly used probiotic bacteria; produces lactic acid and hydrogen peroxide. |
| Bacillus subtilis | Commonly found in soil; tolerates extreme environmental conditions |
| B. longum | Used to relieve anxiety; keeps gut running smoothly |
| B. infantis | Produces thiamine, nicotinic acid, B12, biotin, and folic acid |
| B. breve | Used to prevent diarrhea, allergies, gas, and IBS; produces lactic acid and acetic acid. |
| B. bifidum | Aids in the synthesis of B-complex and vitamin K |