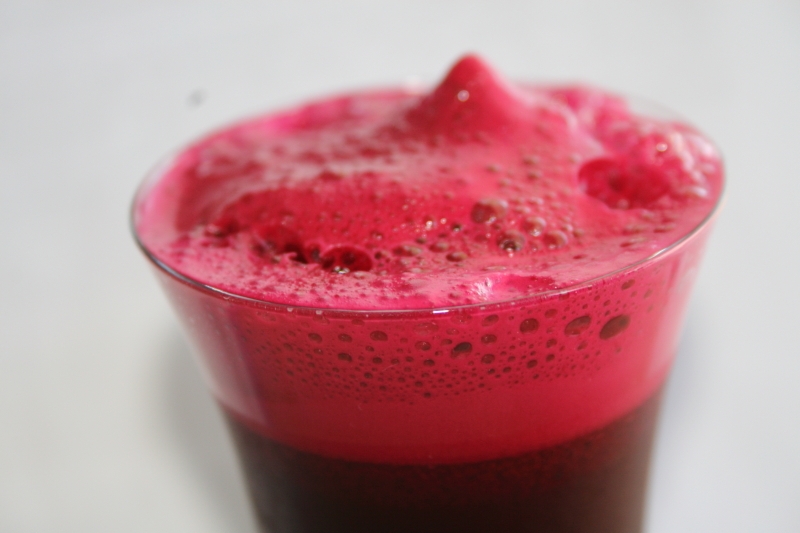 Do you have some favorite or best juicing recipes? If you do, keep using them. It's much easier to keep on juicing if you like the juice. Drinking vegetable juice only because it's healthy might work for a while. But for many, it's a dead end—they soon get tired of it and stop juicing. Palatable juice recipes help you keep on juicing. In addition, research has revealed something interesting about healthy food choices.
Juicing and the gut-brain loop
Research show that the food we consume affects the composition and activity of gut bacteria. People who have a poor diet high in processed, fast food have more harmful gut microorganisms that promote inflammation. However, those with healthy eating habits (like juicing) have a healthy composition of gut bacteria that are anti-inflammatory. And a fascinating aspect is this: The more healthy food you consume the more gut bacteria make you to crave it.[1]Dietary patterns and the gut microbiome | Gut (bmj.com)
Fresh vegetable juice is packed with enzymes, vitamins, and many other nutrients promoting the growth of healthy gut microorganisms. And when beneficial gut bacteria increase in number, this is communicated from the gut to the brain. The brain responds by increasing the desire to drink more juice, thus creating a healthy gut-brain loop. It becomes a lifestyle.
Vegetable juice is liquid food—it's easily digested and quickly assimilated. Just a glass or two a day is a great cornerstone in any wellness strategy. Below you have some favorite recipes.
Summary: Your gut is like a garden which you need to cultivate. Consuming much processed foods like burgers, fries, much sugar and bad fats promote weeds and poisonous plants. This is asking for trouble. However, a diet high in vegetables, fruit, nuts, seeds, healthy fats, and protein promotes a healthy gut environment where beneficial microorganisms thrive. A well cultivated gut garden beautifies the entire body.
Favorite juicing recipes
Jay's Lemonade
This recipe was created by Jay Kordish in the 1940s. It's absolutely wonderful in the summer, a healthy thirst-quencher far better than soda.
1/4 lemon with skin
2 green apples
Ice cubes
Instruction. Organic is best. Juice the lemon and apples. Add ice cubes in glasses and pour up. Fast and simple!
Mean Green
The basic Mean Green recipe we got from Joe Cross. However, this particular recipe was recommended by Jay Kordish, the father of juicing. We never seem to get tired of Mean Green. It's absolutely lovely!
6 kale leaves (or spinach)
1 cucumber with peel
2 green apples (Granny Smith)
4 celery stalks
1/2 lemon with skin
1/2 inch ginger root
Instruction. Juice the ginger first so that it's flushed out by the other veggies. Add ice cubes to the juice in the summer.
Juicing recipes for specific purposes
Most fresh vegetable juice is nutritious and beneficial. However, some recipes are recommended for specific purposes. Here are a few examples.
Juicing for weight loss
For this purpose, it is wise to stick to ingredients with less sugar as it will have a better effect. A few examples: Green, tart apples, lemon, kale, carrots, spinach, broccoli, cucumbers, wheatgrass. Adding apples and lemons makes the juice more palatable.[2]Kale juice improves coronary artery disease risk – PubMed (nih.gov)[3]Carotenoids in study of the Women's Health – PubMed (nih.gov)[4]Carotenoids, and prostate cancer – PubMed (nih.gov)[5]Citrus and cruciferous vegetables prospective study – PubMed (nih.gov)[6]The effect of green leafy and cruciferous vegetable intake (nih.gov)[7]Effect of Spinach, Controlled Trial in Healthy Adults – PubMed (nih.gov)[8]Nutrients in green leafy vegetables – PubMed (nih.gov)
Juicing for gastritis and ulcers
Many have found that juicing cabbage (red & green) works well. Mix the cabbage juice with apples, carrots, cucumber, or pumpkin to make it more palatable. The juice can be stored in the fridge in airtight jars for a day or two.[9]Rapid Healing of Peptic Ulcers in Patients Receiving Fresh Cabbage Juice (nih.gov)
Try this recipe daily. Mix it with some water if it taste too strong.
A chunk of cabbage
An inch of fresh ginger root
Juicing for detox
Main ingredients to include: coriander leaves, kale, carrots, parsley, lemons, ginger, and aloe vera. Mix these with other vegetables for more variety. The following recipe we got from Linda Kordish. It has a fresh, lovely green taste. Amounts are approximate.
1-2 Lime fruits
a few celery stalks
a handfull of spinach
a little parsley
a piece of cucumber
a small piece of fresh ginger
a little mint zucchini
a Red Delicious apple
The Liver Mover
This simple recipe originates from Dr. Norman Walker who was a pioneer in vegetable juicing and wrote excellent books on the subject.
The liver is a key organ that is involved in countless processes in the body. According to Dr. Walker, this simple drink supports, stimulates, and heals the liver. It also supports the digestive tract.[10]Protective effect of red beetroot – PubMed (nih.gov)[11]Beetroot juice on damage in liver – PubMed (nih.gov)[12]Potential benefits of red beetroot in health and disease – PubMed (nih.gov)
½ beet (including greens)
2 green apples
Optional: half a lemon
Juicing great for the gut
Fresh vegetable juice floods the gut with large amounts of nutrients and feeds the beneficial microorganisms inhabiting the digestive tract. Fresh juice is rich in enzymes that improve digestion. Maybe you'll fall in love with a recipes mentioned in this post. You should have a few favorite or best juicing recipes as they are great motivators.