Can probiotics cause acid reflux? This may sound like a strange question because often probiotics help lessen acid reflux, not increase symptoms. However, some people have reported a worsening of acid reflux and other symptoms when consuming probiotics. Why does probiotics cause acid reflux? Here are a few possible explanations for this.
NOTE: If hiatal hernia is the cause of acid reflux, then it might be corrected by pushing the stomach back. Hiatal hernia is a condition in which the stomach is stuck up in the hole of the diaphragm. But this is not dealt with in this post.
1. Detox
Probiotics help cleanse the digestive tract and this process can produce gas, constipation, bloating and other harmless symptoms. Some specialists call this a Herxheimer reaction, and it seems to be one reason why people experience acid reflux when starting to consume probiotics.
Some feel worse before feeling better (healing crisis)
This is the reaction in the digestive tract when bad bacteria, virus or fungus are being killed off. In this process, some harmful bacteria release powerful toxins. If the body cannot eliminate waste and toxins quickly enough, then the individual will get symptoms of this. And again, a temporary worsening of symptoms does not indicate failure of the treatment. It's quite the opposite. It usually takes some days to a week before feeling better, rarely longer.
2. Yeast overgrowth
Yeast is a common problem. Probiotics help control candida overgrowth. However, candida and other harmful bacteria often die a violent death, releasing toxins which can cause symptoms. Acid reflux is one. How strong the reaction is different for each individual. Many people have problems with yeast overgrowth without knowing about it. And when starting to use probiotics, it can take days or even weeks before symptoms subside. Much depends on how extensive the candida overgrowth is and how sensitive the individual is.
Two good probiotics for candida: Hyperbiotics, Mercola.
In any case, getting rid of candida takes time, quick fixes seldom work. Take it slow! Therefore, candida sufferers should not to consume too much probiotics to begin with. In fact, it might be best to start off with a few other recommendations first, and only then continue with probiotics. For example, high on the list is to eliminate sugar, alcohol, and coffee. For a more detailed candida discussion, see this post.
3. Build up of proteins in the stomach
Sometimes probiotics cause acid reflux in people who are not be able to break down all the protein they consume. This can result in a protein build-up in the stomach. Probiotics (and also enzymes) can help digestion to return to normal and remove undigested protein from the body. But during this process acid reflux is a possible side effect. But any side effects are only temporary.
If this is a problem, avoid consuming too much animal protein. An average body needs less than 80 grams per day. Focus on consuming more fresh vegetables and perhaps some seafood. Consume meat only a few days per week, and limit the amount.
Probiotics cause acid reflux, what can I do?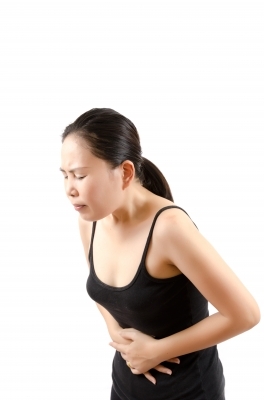 In many cases, lowering the probiotic dose helps avoid acid reflux. Try dissolving a probiotic capsule in a glass of water or juice. Drink a little now and then during the entire day until the glass is empty in the evening. The probiotic dose remains the same as taking a capsule, but delivery is slower, a kind of super-slow release that is more comfortable for a sensitive stomach.
Other reasons for adverse reactions to probiotics.
In rare cases, the reaction to probiotics can be stronger. Then it might be best to stop and move over to other strategies for a while. Some people report that consuming probiotic yogurt or kefir works better than supplements, and that it does not cause acid reflux.
To keep the digestive tract in good shape, try the following five tips:
Don't eat too late at night.
Reduce the intake of sugar and carbs.
Learn to eat slowly, chew food thoroughly.
Drink fresh vegetable juice (try the superb Ginger Shot).
Take a tablespoon apple cider vinegar mornings and evenings.
In most cases when probiotics cause acid reflux, it will quickly disappear when the stomach environment improves.