Mercola Full Spectrum Enzymes for Women is one of the best digestive enzyme supplement for women that I've ever reviewed. It is a complete, up-to-date formula designed and tweaked exclusively for female needs.
Mercola Enzymes for Women seems to be an adjusted version of the standard enzyme supplement—Mercola Full Spectrum Enzymes. The tweaks are with regard to how women eat compared to men. Women normally eat less than men, also less protein, but more vegetables, and this is reflected in the formula.
Several years ago I reviewed several previous versions of Mercola Full Spectrum Enzymes; they were all good-quality supplements. However, this new formula for women is not just an improved version, it's a completely new approach. Dr. Mercola has created a set of six new digestive enzyme supplements, each covering some specific needs. You can even combine two or more of the enzyme supplements for a stronger effect.
This review is only about Mercola Full Spectrum Enzymes for Women. But I have also written reviews on other enzyme supplements from Dr. Mercola.
Mercola Full Spectrum Enzymes for Women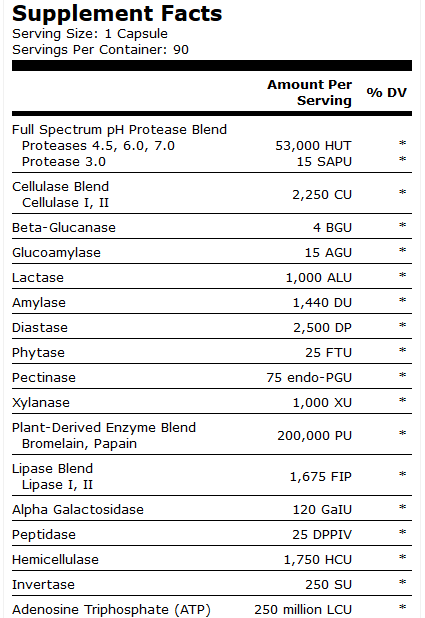 Here is a summary of the main features of this supplement. At the end of the post, you can find a more detailed description of the enzymes. The main features are similar to the Mercola Full Spectrum Enzymes. However, because women eat differently than men, there are some differences.
This formula is designed according to eating habits of 21 century women, according to USDA data. Women eat less than men, also less protein, but more fruit and vegetables.
The supplement aims to compensate for the fact that many consume processed food that are low in natural enzymes. In addition, research show many women cannot produce enough digestive enzymes, something that cause a number of digestive problems.
The Full Spectrum Enzymes for Women contains 22 powerful enzymes derived from plants, bacteria and fungus. The enzymes are composed to work in different parts of the gut containing different levels of acidity. This new supplement contains twice as many enzymes as the old ones. So it is a major upgrade!
Dr Mercola included high levels of enzymes. Therefore, for most women one capsule will be more than enough, even after a heavy meal. It will also compensate for a certain loss during storage.
The new formula includes the almighty ATP (Adenosine triphosphate). ATP is called the "energy currency of life." It is a vital molecule that stores energy for all living cells and is the source of energy all humans needs to do any kind of work. ATP is present in raw food (not processed) and has a key role in initiating digestion. This is a great addition, especially for women who eat less raw food.
The supplement is designed to quickly break down carbs, fat, and proteins. A rapid digestion helps avoid bloating, gas, indigestion and other problem.
The supplement is all vegan and does not contain anything derived from animal sources. It's also gluten and soy free, and non-GMO.
Dr Mercola offers plenty of information about enzymes, manufacturing principles, research, and lab tests to his supplements. This openness builds trust; you know what you pay for.
Good for vegetarians and vegans
Because Mercola Full Spectrum Enzymes for Women is designed for those who consume more vegetables and less protein, it works well for vegetarians and vegans, no matter if you're a man or woman. It contains higher levels of plant digesting enzymes, which is great for both men and women who consume more vegetables.
What about the cost?
A bottle with 90 caps is around $30 (December 2019). This is a bit more expensive than other brands. However, the enzyme formula is very effective for women and vegetarians. And if it is enough with one capsule per day for the main meal, then one bottle lasts for three months. Believe me, good digestion is worth a lot! With many other digestive enzyme supplements, you need two or more capsules to notice an improvement in digestion. This increases the cost. Therefore, the price of Mercola Enzymes for Women may not be that high after all.
How to take
The recommended dose is one capsule with the main meal (or with each meal). For most people, one capsule is more than enough, even for a heavy meal. Some people take the enzymes some 15 minutes before the meal, others feel it's better to take it during the meal. Try what works best for you. In any case, try not to take enzymes too late in the evening as it can disturb some body processes, including sleep.
Verdict
Superb supplement! In fact, Mercola Enzymes for Women is unique and among the best I've reviewed. If you're a woman or a vegetarian that needs digestive support, then this supplement will most likely work very well.
Mercola Full Spectrum Enzymes for Women
You might think that digestive enzymes are only involved with the digestion of food. However, these same enzymes are essential for many other body functions. They keep the digestive tract in shape and help lessen inflammation, strengthen the immune system, improve mood, and much more.
This lists all enzymes included in Mercola Full Spectrum Enzymes for Women. It gives you an idea about the importance of enzymes. But it's by no means a complete list.
| ENZYME | FUNCTION | OTHER BENEFITS |
| --- | --- | --- |
| Proteases | Help digest different kinds of proteins. | Assist many processes as immune system, blood circulation. |
| Cellulase I, II | Break down cellulose into smaller parts as glucose; help free up nutrients. | Help detoxify gut, support cell membranes, control blood sugar, cholesterol. |
| Lipase I, II | Break down fat (triglycerides), promote fat usage, support the gallbladder. | Boost immunity, alleviates celiac, cystic fibrosis, heartburn, allergy, Crohn's. |
| Bromelain (from pineapple) | Powerful enzyme For complete digestion of proteins. | Powerful enzyme; lessens inflammation, pain, urinary infections, arthritis. |
| Papain (from papaya) | For complete digestion of proteins. | Lessens pain, swelling, inflammation. |
| Beta-Glucanase | Breaks down polysaccharides in grains. | Reduces Candida, lessens many digestive issues. |
| Glucoamylase | Converts starch into glucose for energy. | Lessens IBS, gas, nausea, heartburt, and autoimmune responses. |
| Amylase | Breaks down carbohydrates as starch and glycogen. | Prevents swelling, rejuvinates entire body. |
| Diastase | Degrades maltose to glucose, digest starch. | Helpful in case of pancreatic diseases. |
| Lactase | Breaks down lactose (milk sugar) into glucose and galactose. | Reduces IBS, gut irritation, heartburn, ulcers. |
| Pectinase (found in apples and bananas) | Breaks down carbohydrates in fruits and vegetables. | Plays key role for gut protection, benefits entire body. |
| Xylanase | Breaks down wheat, oats and barley. Reduces gas, bloating. | Increase availability of nutrients, supports gut bacteria. |
| Alpha Galactosidase | Helps digest gas-promoting carbs in legumes, beans, fibrous vegetables. | Great to avoid indigestion and discomfort. |
| Peptidase | Releases amino acids from proteins and polypeptides. | Lessens inflammatory conditions, prevents anxiety and insomnia. |
| Phytase | Supports mineral absorption; breaks down phytic acid,. | Reduces toxins in the gut, boosts bone health. |
| Hemicellulase | Digests soluble fibers in plant cell walls; releases nutrients bound in fruits and vegetables. | Reduces candida, improves digestion, gives more energy. |
| Invertase | Splits sucrose into glucose and fructose. | Immune booster, reduces ulcers, respiratory problems, cancer. |
| ATP | Very powerful coenzyme. Used by all living cells for energy. Initiates digestive processes, like a jump-start. | Energy-carrying shuttle that fuels all cells in body. Essential for life. |