Bentonite clay benefits are said be safe, cheap and simple. In fact, many clay users claim its benefits exceed most dietary supplements. Bentonite clay benefits includes supple, soft skin, healthy hair and detox baths. Some even drink bentonite clay to detox the digestive tract.
We have tried a few different clays to experience this firsthand and below include suggestions to safely enjoy bentonite clay benefits.
Bentonite clay properties
Bentonite clay belongs to a group of volcanic minerals with a negative electromagnetic charge. It looks like a fine grey, red or green powder. When combined with water, bentonite clay acquire some amazing properties. Hydrating (adding water) to bentonite powder changes the properties, it gains the ability to absorb and adsorb large amounts of harmful substances.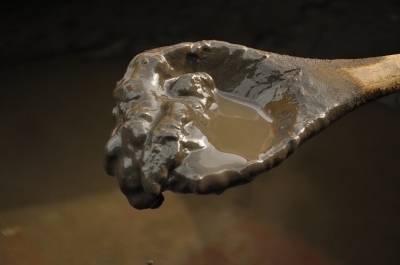 How bentonite clay works
When hydrated, bentonite clay carries a negative electrical charge. On the other hand, toxins, bacteria mostly carry a positive charge. Therefore, hydrated bentonite clay works almost like a magnet, pulling and bonding with positively charged harmful substances that are absorbed by the clay and safely removed. This is one reason why bentonite clay is so versatile.
Potential benefits
Removes chemicals, metals, toxins in digestive tract
Promotes growth of beneficial gut bacteria
Reduces heartburn or acid reflux
Alleviates skin disorders
Reduce food sensitivities
Detoxify the liver, colon
Much more…
Best bentonite clays
There are different healing clays and each has slightly different properties. All clays below work for baths and face masks.
Calcium bentonite clay: Many experts favor the fine calcium bentonite clay from the California Mojave desert. And after trying it for a while, I must agree. It has excellent properties, is easy to mix with water and can do wonders for the skin. This is also good to use internally. Earth's Living Clay have a nice selection of high quality green calcium bentonite clays.
Sodium bentonite clay: This clay from Wyoming is an amazing absorbent. When mixed with water it swells many times it own weight. This clay works well in clay baths and on the skin, though some also drink it. It makes you the smooth and supple. Some cheaper sodium bentonite clays work well in baths. To use it internally, you need a food grade clay.
French Green clay: Closely related to bentonite. Also an effective mineral clay for face masks and baths.
Redmond Clay: A great sodium bentonite clay, richer that the one from Wyoming. Can be used both internally and externally.
Bentonite clays bath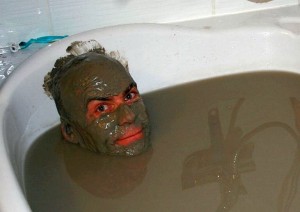 Used externally, any pure bentonite or other clay will make the skin soft and supple.
A great way of using clay is to take a muddy bath. Healing clay baths utilize the clay's strong drawing powers to help pull debris out through the pores of the skin.
Clay baths work well for dry, flaky skin but seem to benefit all types. My wife has normal skin and I have very dry skin but we both thought the clay bath made the skin much more supple.
Suggestions for a bentonite clay soak:
Some start with 1-5 cups of clay powder mixed with hot water in the tub. (We tried up to 10 punds (5 kg) of clay in one bath.) It's easier to mix the clay if you do it in just a little hot water. Some use a mixer or blender to mix water and clay powder and then pour this mix into the bathtub water. Others mix the clay powder with hot water in the tub using a whisk; dissolve all the clay lumps.
Do not add oils as they might decrease the effect of the clay. Earths Living bentonite clay is easy to mix in water. You can can add 1-5 cups of sea salt.
The water should be in a comfortable temperature.
Stay in the bath for 20-40 minutes. Some might feel a little nauseous or fatigued, but later relaxed or energised.
Bentonite clay masks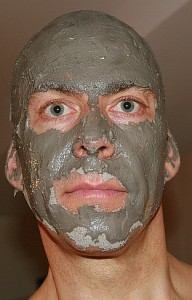 The hydrated bentonite clay should be like a gel, without clumps and holding together. It should not be running. Clay masks are great for dry skin, shrinking pores and wrinkles. This is also the best exfoliating masks we have tried and leaves you skin soft and clean.
Try a mask once or twice and see how the skin responds. Some have had great success with acne. by using clay masks daily for two weeks. After that twice weekly.
Bentonite clay mask recipe
Calcium bentonite: Mix 1 part clay powder with two parts water. Wait some minutes until the powder have absorbed the water.
Sodium bentonite: Mix 1 part clay powder with 3 or 4 parts water. Sodium bentonite swells much more than calcium bentonite.
A single clay mask recipe
One teaspoon of calcium bentonite clay powder
1-2 teaspoons water in a small cup
Apply the clay to the face, avoid eyes
Leave the clay until it becomes dry
For sensitive skin, rinse sooner
Rinse with warm water
Finish with a natural moisturiser
Bentonite clay for hair
This was another nice treat! Though it looks a bit freaky with all that mud in the hair, my hair and scalp felt great after rinsing the mud out. I have very dry skin but it stays smooth with one or two mud treatments a week. And the clay is simple to apply.
Hydrate enough bentonite clay powder to completely cover the hair
Apply generously, gently massage the clay to reach the scalp
Let it sit for 5-20 minutes
Rinse with warm water
Drinking dirt?
Drinking bentonite clay takes the mud experience to a whole new level. Too far? Not really.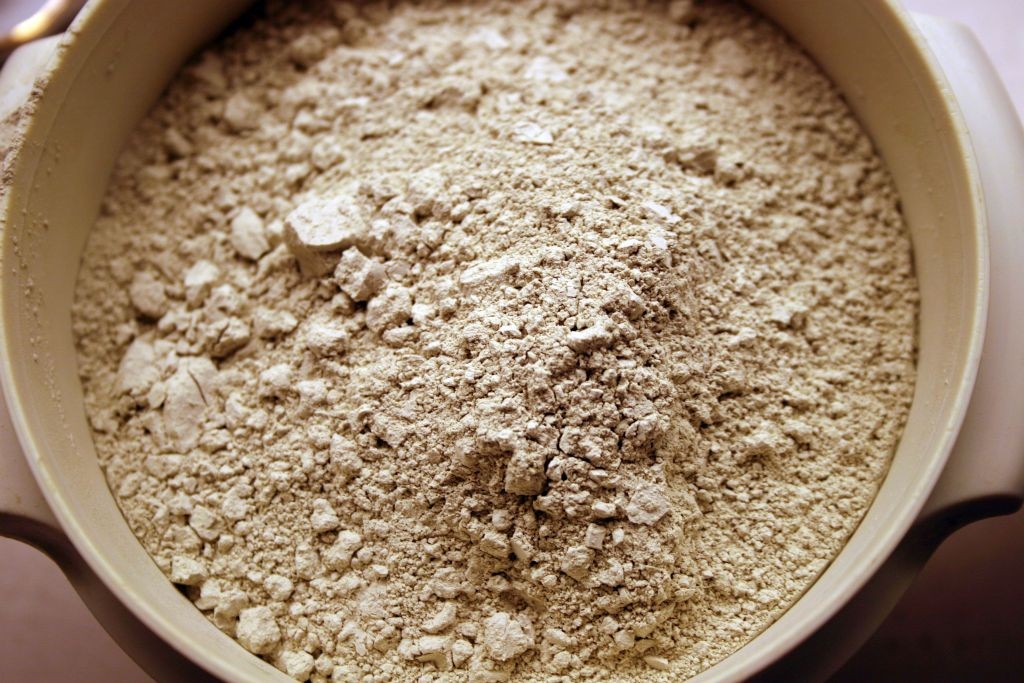 Used internally, bentonite clay is able to draw out impurities from the digestive tract. The body uses the gut as a main exit for waste products and drinking clay water can help cleanse the colon.
Many experienced clay users agree that the best bentonite for internal use is the green desert calcium bentonite found in the California Mojave desert in the Death Valley area. Others claim the gray/green sodium bentonite from Wyoming is also fine. Redmond clay is yet another good sodium bentonite.
Preparing a clay drink
Use the 1:8 ratio. 1 part clay powder and 8 parts filtered water or spring water.
1-2 tablespoons clay powder
Mix the drink in a glass or plastic bottle; avoid any metal as it can ruin the clay's unique properties
Drink bentonite clay water on an empty stomach, at least one hour before or after meals, taking medication or supplements
Take a bentonite clay drink morning and evening
The taste?
Well, don't compare it with your favourite drink. But drinking clay is actually not too bad. The calcium bentonite we tried has an oily, almost creamy texture. We just gulp it down.
Once in your stomach, the clay will not absorb nutrients, vitamins or minerals from food. And it will not absorb beneficial gut bacteria. In fact, bentonite clay promotes the growth of good gut bacteria.