Who doesn't love a creamy, refreshing yogurt! There are so many variations that most can find a yogurt they enjoy. And for those making wise choices, there are many health benefits of yogurt.
Benefits of yogurt
A good yogurt containS beneficial bacteria and yeast. Probiotic bacteria support and enhance the digestive tract and other body functions. Studies reveal that good bacteria in yogurt can survive the transit in the gastrointestinal tract.
Maximise benefits of yogurt by choosing the ones containing beneficial bacteria.
Benefits of yogurt confirmed by research
Good bacteria in yogurt help lessen the severity of Inflammatory Bowel Syndrome (IBS).
Probiotics in yogurt help stabilize the existing gut micro-flora.
Yogurt cultures may prevent antibiotic-associated diarrhea.
Yogurt may reduce 'sick days' associated with flu and colds.
Studies suggest that consuming yogurt regularly may cut the risk for stomach ulcers caused by Helicobacter pylorii.
A small serving of yogurt provides up to nine grams of protein.
Yogurt contains calcium, which is important for bone health.
Plain, unsweetened yogurt can promote weight loss,
Beneficial microorganisms in yogurt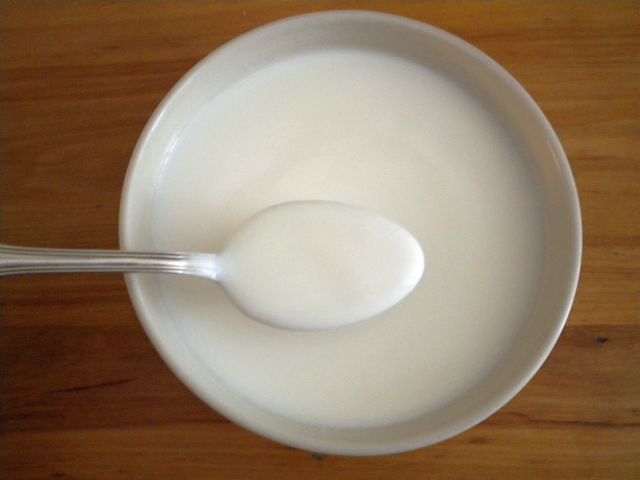 Each bacteria or yeast adds its specific taste, texture and nutrients to yogurt. Bacteria are responsible for most of the benefits of yogurt.
Lactobacillus delbruckii
Byreaks down lactose (a sugar) found in milk products; this is a reason why some lactose intolerant ones can consume yogurt. These bacteria also produce amino acids, vitamins B-complex, and vitamin K2.
Streptococcus thermophilus
This is included in many starter cultures for yogurt. It turns lactose into lactic acid that lowers the pH and adds a fresh, slightly acidic taste. Lactic acid also turns milk into the gel-like structure characteristic of yogurt. This bacterium produces yogurt with consistent flavor and texture. The longer you ferment yogurt, the tarter the taste.
Lactobacillus bulgaricus
This species is capable of producing bacteiocins, a substance that can kill off bad bacteria.
Bifidobacterium lactis
This bacteria is capable of surviving the harsh stomach environment and travel to the colon where it offers protection from toxins and inflammation. However, this bacterium is most known for is its ability to stimulate the body's immune response.
Lactobacillus acidophilus
When L. acidophilus breaks down food in the intestine, several substances are formed, such as lactic acid and hydrogen peroxide. These substances create an unfriendly environment for unwanted bacteria. Lactobacillus are often recommended when you take antibiotics. L. acidophilus helps restore the healthy gut balance.
Which yogurt to avoid
Most commercial yogurt may not be your best choice. Why not?
It is often loaded with sugar and other unhealthy additives. Some of the most popular commercial yogurts are an unhealthy cocktail of low quality ingredients. Beneficial yogurt contains live microorganisms, enzymes and other nutrients.
A good option is to make yogurt at home; this is simple and cheap. I use milk with a fat content of 4,3% which produces a creamy, rich yogurt.
Finding beneficial yogurt in grocery stores
Be suspicious about food labels as they notoriously unreliable. But if you need to buy yogurt, what can you do?
Both Greek yogurt and some regular unsweetened organic yogurt with probiotics are good alternatives.
Greek yogurt however will have much of the lactose, whey and sugar removed which makes for a bit more bite, taste wise, but also increase the protein content to almost twice that of many commercial yogurts.
There are also many other probiotic milk products available in some grocery stores that you can try.
Try homemade yogurt
Try using raw milk as it's tastier and more nutritious than commercial milk;  Raw milk is loaded with beneficial bacteria, enzymes and other nutrients.
All you need to do is to add a starter culture to the milk, keep it in in room temperature for 18-24 hours and you're done.
A high quality starter culture makes yogurt more beneficial.
Homemade yogurt is very simple to make and well worth the effort.